How to Cut Squash
How to Easily Cut Squash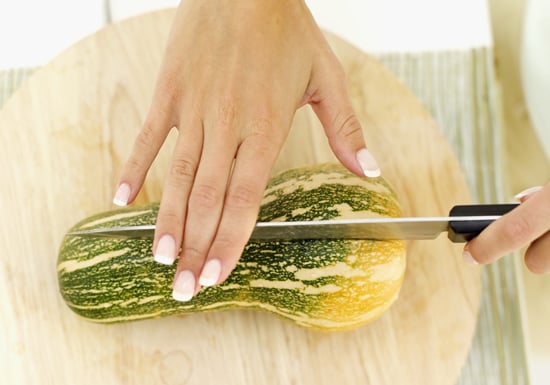 Splitting a squash into two pieces might be one of the toughest and most dangerous things to do in the kitchen. Rather than angrily hacking away at this super-dense, starchy vegetable, follow this step-by-step guide to make cutting squash a seamless feat. What are your tips for cutting squash?
Pierce the skin of the squash in a few spots using the tip of a chef's knife. Place the squash in the microwave and cook on high for about two minutes. Let squash cool in microwave for a few minutes before returning it to the cutting board.
Cut both ends of the squash off, so you are left with two flat surfaces on either side. When doing so, be sure to keep your left hand in a bear claw to hold the squash steady while you cut.
Stand squash straight up on its heavier end. Forcefully insert the back half of the knife's blade into the top of the squash. Make sure the knife is stuck inside the squash. Hold the handle with one hand. Place the heel of your other hand on the top of the knife (where the metal spine meets the handle) with your fingers flexed straight and your thumb tucked into the palm of your hand.
Rather than trying to use your weight to cut through the squash, lift and bang the squash down into the cutting board. With each bang, the knife should naturally slide down and cut the squash. Be sure to keep your fingers flexed to prevent them from slipping.