How to Eat More Veggies
How to Incorporate More Veggies Into Your Diet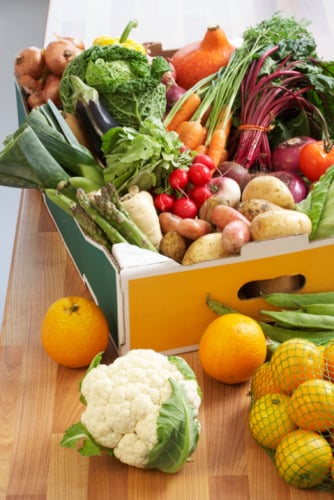 According to MyPlate, Michelle Obama's recent replacement of the the food pyramid, vegetables should dominate the American diet.
However, I'm the first to admit that I probably don't eat enough vegetables: cheese and chorizo are so much more delicious!
To promote the consumption of more leafy greens and in-season produce, I'm suggesting that we all make a conscious effort to change our diets. You ready to eat more veggies? Keep reading to see my pro-vegetable plan.
Make one meal a day be a hearty salad. Serve a giant bowl of mixed fruit for breakfast or offer tomatoes and avocados topped with a soft-boiled egg. For lunch, toss mixed greens with your favorite grilled vegetables. Or combine a small amount of grains with lots of veggies like mushrooms, broccoli, and roasted red peppers. Make a steak or grilled chicken salad for dinner.
Add greens to everything. Toss a packed handful of spinach into scrambled eggs and layer on turkey sandwiches. Stir dark greens like kale and chard into soup, bean and pasta dishes.
Make a weekly batch of roasted or grilled vegetables then add them to sandwiches and salads during the week. Asparagus, eggplant, tomatoes, broccoli rabe, squash, and peppers are all perfect for roasting and grilling.
Get rid of the junk food. If you stock your pantry and fridge with healthy foods, like fresh veggies, than you won't be tempted to eat anything else.
Dislike some veggies? Add a small portion to a favorite dish. For example, my dad hates asparagus, but when it's sliced thin and put on top of a pizza crust with pesto and feta cheese, he'll eat it!
How do you incorporate more veggies into your diet?