How to Eat at a Restaurant That Doesn't Take Reservations
How to Eat at a Trendy Restaurant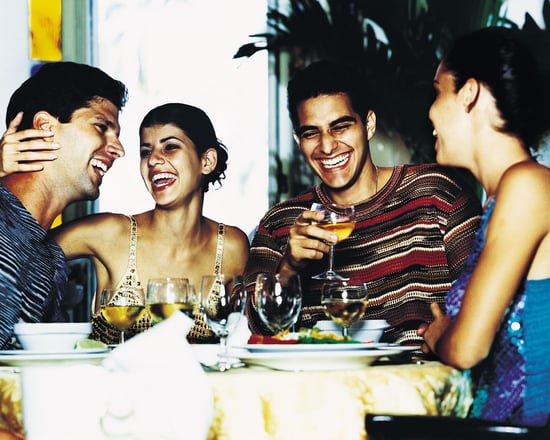 Many new and popular restaurants do not accept reservations. While I understand an establishment's motivations for not taking reservations (it's more convenient, cost efficient, and eliminates the issue of no-shows), it can be incredibly frustrating as a diner to want to eat at a trendy establishment that is known for its long wait. As an avid girl-about-town, I've devised the perfect plan for minimizing the wait. Here's what you do:
Research the eatery before you arrive. Some places don't take reservations, but they will let you call in advance and add your name to the list. If that's the case, call up to two hours before you want to eat and politely give the hostess your name.
Go earlier or later. Show up at the restaurant about 15 minutes after it's opened; chances are they won't be full yet, and you'll be able to enjoy a meal without having to wait. The opposite option is to get there on the later side: after 9 p.m. You'll miss the dinner rush and hopefully be greeted with a shorter line.
Be prepared to wait. Don't eat at a hot spot when you have a limited amount of time to dine. Got to be someplace after the meal (the theater, a party, a sporting event, etc.)? Then, select an eatery that can get you in and out quickly, not one that has a long wait.
To see the rest of my tips, keep reading.
Put your name on the list, ask the hostess for the estimated wait time, and head to a nearby bar for a drink. Five minutes before the wait time is up, send someone from your party back to the restaurant for a status update.
Become a regular. When you eat at the same place frequently, the staff will get to know you, and they'll be more inclined to help you get a table fast.
Dine alone or in a pair. It's much easier for an establishment to seat one or two people. Two-tops have a higher turnover rate, and you'll get in quicker than a big party. At small, hip, and crowded eateries, avoid group dining altogether. If your party has more than four people, take it to a larger restaurant that can better accommodate your needs.
If you live nearby, head over when it opens, speak to the hostess, and let her know what time you want to come in. They will most likely hold a spot for you.
Don't get angry! Nobody likes to deal with self-entitled diners; they annoy both the staff and customers. The restaurant will seat you as soon as they can.
Don't arrive starving. Have to wait 45 minutes? That means you won't be eating for another 60-75 minutes. When you're hungry, the wait will only seem twice as long.
Do you have a suggestion for a better dining out experience? Please share it below!