How Giada De Laurentiis Manages to Stay Slim and Trim
Giada Spills Her Secrets For Looking Great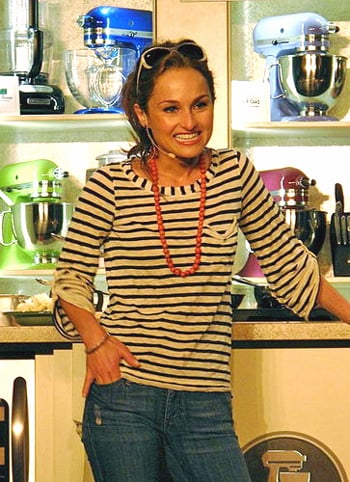 During her cooking demo in Aspen, Food Network star and fan favorite Giada De Laurentiis opened up the floor to questions. One woman in the back raised her hand and asked the question that the whole world was dying to know.
"How do you manage to cook all this food and still look so great?" she asked. The mother of Jade Marie, now 2 — who looked casual chic in a boatneck tee and cuffed jeans — took some time to talk about how she stays so slim and trim. Find out her secrets after the jump.


Genetics. Giada chalks it up, first and foremost, to genetics. "My mother's little," she explained.
It's all about control. In true Italian tradition, De Laurentiis eats whatever she wants, but only in small portions.
Satisfying little tastes. "When you cook, you're tasting along the way," she pointed out, "so by the time you sit down to dinner, you're not that hungry."
And finally, exercise. "Nobody wants to hear this, but I work out!" she admits. "I work out a few times a week, even if it means getting up at 5 a.m."
At that moment, a visual of Giada groggily crawling out of bed at 5 a.m. appeared in my mind, and I didn't feel so bad about how hard I have to work, either. What she had to say about staying healthy wasn't anything new, but it was certainly reassuring, coming from the food world's biggest head-turner herself.
What are your secrets to eating well while looking great?