How to Grill the Perfect Steak
Tim Love's Technique For Perfect Grilled Steak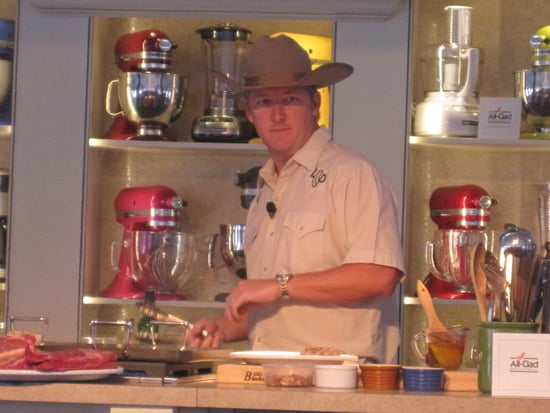 Earlier today in a white tent at the Food and Wine Classic in Aspen, Tim Love grilled up some big meat. The cowboy chef from the Lone Star State has a very specific steak-cooking method. He uses premium cuts of beef (his current fav is the Italian-equivalent to Wagyu) and is not a fan of marinades. "You want the meat to taste like meat. You don't want it to taste like Worcestershire sauce. If you want to taste Worcestershire sauce, have a shot of it with your steak," the chef joked. To check out his technique for perfectly grilled steak, read on.
Preheat the grill; it should be heating for at least 30 minutes before you start to grill.
Select a flavorful cut of beef. Love likes porterhouse or rib eye. While the filet is very popular and easy to cook, it doesn't have much fat, which means it will have less flavor.
Brush both sides with peanut oil and season with salt and pepper. When you think you're done seasoning, season with salt and pepper again. Love insists that a salt-and-pepper crust is essential to delicious steak.
Place the beef on the grill over direct heat. Shut the lid and let it cook. Don't peak! How long depends on your choice of beef; it could be anywhere from 3-7 minutes.
Open the lid, turn the beef 90°, cover, and cook for another minute.
Open the lid and flip the beef. Cook, depending on the size of the beef, for another 3-7 minutes.
Remove from the grill and set it on a platter to rest for 10-20 minutes. Do not turn off the grill.
Once the meat has rested, return it to the top grill rack or an area on the grill that has indirect heat. Close the lid and reheat the steak for another 3-4 minutes. This will impart an incredible smoky flavor.
Remove from the grill and enjoy!
What's your way of making a scrumptious grilled steak?