How to Grill Pound Cake
Savor Summer's Sweet Bounty With Grilled Pound Cake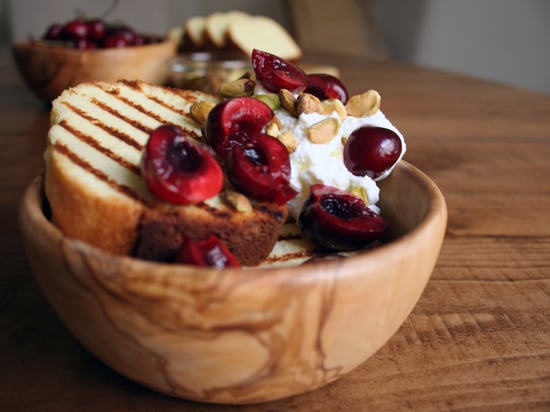 It might seem unconventional to throw pound cake on the grill, but doing so transforms the buttery cake into a warm, smoky treat that pairs well with ice cream or whipped cream and fresh Summer fruit. And grilling pound cake is a cinch, because its batter is dense and sturdy and won't crumble or fall apart on the grill.
This recipe combines rose water, pistachios, and cherries for a Middle Eastern spin on an American dessert. Rose water and honey impart a floral, fresh take on the old whipped-cream standard. Toasted pistachios add a bit of crunch and texture contrast. The ripe, red cherries, at their peak season in June, burst with sweet syrupy juice that ties this amazing dessert together. Seize the short growing season of cherries by making this striking grilled pound cake recipe.
Grilled Pound Cake With Rose Whipped Cream, Pistachios, and Cherries
From Anna Monette Roberts, YumSugar
Ingredients
1 pint whipping cream
1/4 cup honey, or more to taste
1 teaspoon rose water, or more to taste
1 loaf of pound cake (homemade or store bought) cut into 1-inch-thick slices
1 cup toasted, preshelled pistachios
1 pound pitted, sliced cherries
Directions
To make whipped cream: Place cream in metal mixer bowl. Beat with an electric mixer starting at a low speed. Gradually increase the speed to high as the cream starts to thicken, about 6 minutes. When soft peaks begin to form, add honey and rose water, and continue to beat until a stiff peak forms. Refrigerate until ready to serve.
To grill pound cake: Preheat grill or cast iron grill pan to medium. Place the pound cake on the grill. Do not move it at all once it hits the grill, and sear for 2-3 minutes, or until light brown grill marks form. Flip over to repeat.
To serve: In a bowl or on a plate, lay 1 or 2 slices of grilled pound cake. Add a dollop of whipped cream on top. Sprinkle with pistachios and sliced cherries. Serve immediately.
Serves 6-8.
Information
Category

Desserts, Cake