How to Handle Bacon Grease
Bring On the Bacon Grease! How to Handle, Store, and Use It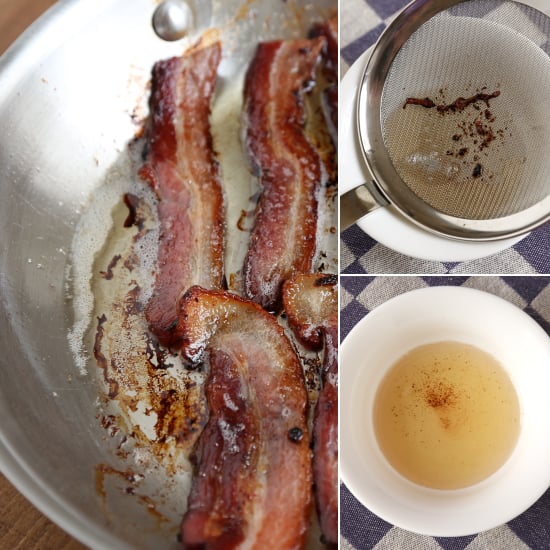 Before my nose fully reached the countertop, my grandmother would show me how to fry up a piece of bacon just to render the bacon fat for my favorite lady pea recipe. After all, the Southern attitude is of the "who needs spices or herbs when bacon's flavor will saturate and perfect just about any dish?" mentality. I've maintained that perspective in my kitchen today, and urge you to do the same. If you've been prone to toss out the liquid gold after frying up a few pieces of bacon, for goodness' sake, stop! Let me show you how to handle, store, and use bacon grease.
Start with frying up some bacon over the stovetop. After you've cooked the bacon, let the pan cool slightly.
Meanwhile, set up a ceramic bowl or glass jar, fitted with a fine-mesh strainer. Once you've consumed the bacon, return to the kitchen to pour the bacon grease over the mesh and into the bowl. The mesh catches the burnt bacon bits, yielding a cleaner, longer-lasting bacon grease.
Let the grease solidify, then cover it with plastic wrap or screw on a jar lid. I keep mine near the stove, or you can store it in the fridge and use it within a few weeks as you would any other oil.
Try it when caramelizing onions, cooking beans, in place of half the butter in a chocolate chip cookie recipe. Let there be more eau de bacon!