How to Host a British Afternoon Tea
Get in the Royal Wedding Spirit With a Sweet and Savory Afternoon Tea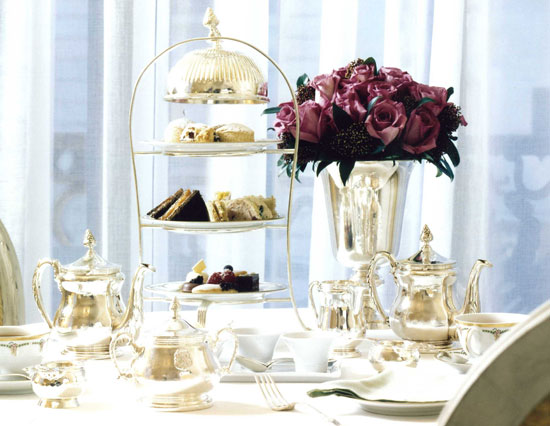 The royal wedding is just three days away, and fans of the monarchy are busy prepping for Prince William and Kate Middleton's big day. For those planning to celebrate the nuptials in a British way, there are many options to choose between. One could indulge in something boisterous, like a fun pub crawl, or for the true Anglophile, a slightly more elegant afternoon tea is in order! We were able to sample the afternoon service at one of NYC's most storied hotels, the St. Regis, last week for a primer on how to have the perfect tea. Opting for a prix fixe experience is a real treat, but it would also be relatively simple to replicate at home. A few pointers on how to host the perfect tea, after the jump.
The tea itself: At the St. Regis, there was a menu of 23 teas to choose from. Once you've picked your preference from black, green, oolong, white, or herbal, it seems the way to go is a loose variety. The true British way of tea-making is to take boiling hot water straight from the kettle and pour it onto the leaves in a pot. For an added British touch, try serving the tea in a matching pot, cup, and saucer set.
The savory: The first food course can consist of finger sandwiches — think tiny and sans crust! The St. Regis's menu featured six minis, ranging from the expected (cucumber and cheese, smoked salmon, and egg salad) to the more bold (king crab meat salad, smoked duck with orange, rosemary chicken). Depending on your and your guests' tastes, other traditional favorites are cheddar with tomato or chutney and pear with stilton.
The sweet: Shortly after the sandwiches followed an impressive spread of scones and desserts on a three-tiered tray. Spread clotted cream, real lemon curd, and a raspberry jam on rum raisin scones. As if that wasn't enough to round out the traditional tea service, there were also petit fours to enjoy, including blueberry pound cake, mini lemon tarts, and a coffee chocolate mousse with blueberries and a touch of gold leaf!
The ceremony will be broadcast here in the US at early hours on both the West and East Coasts — make sure to tune into PopSugar, where we're live-streaming the royal wedding! It may be a few hours ahead of a traditional British tea time, but the whole day of April 29 will be one of celebration for those wishing Will and Kate well. Have you ever had a traditional tea service?