How to Host a Wine Tasting
5 Tips For Hosting an Informal Wine Tasting
Wine tasting can be quite a production: between vying for a space at the bar to begin tasting, paying high prices for comparably tiny pours of wine, and figuring out how to safely get from winery to winery without someone having to miss out on all the tasting, it can feel like more trouble than it's worth.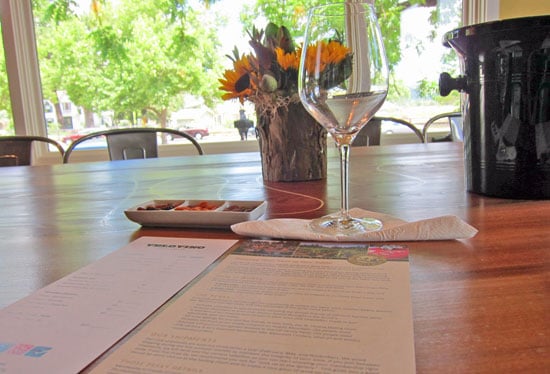 I recently visited Clif Winery's new tasting room in St. Helena, CA, Velo Vino, where the vibe was decidedly more relaxed. The tasting room in general is inviting, warm, and impeccably wine-country chic, but I was especially impressed with the large communal table where the winery hosts its special Yellow Jersey tasting. On my visit, the table was already set for a tasting, and it gave me a few great ideas for hosting a fun, informal wine tasting at home. Want to host your own? Here are a few tips!
Set the scene: The point of a wine tasting is to enjoy each sip and chat with friends, rather than to power through as much wine as possible, so make your guests want to stay awhile. Set up your tasting somewhere comfortable, and lay out everything your guests will need during the tasting, including glasses, paper for taking notes, a pitcher of water, and a bucket for pouring out unwanted tastes.
Move from lighter to heavier wines: This may be a wine tasting cliché, but that doesn't mean it isn't true! Each wine affects how the next one tastes, so start with lighter wines, like whites, sparkling wines, or Pinot Noirs, and transition to heavier reds like Cabernets and Syrahs.
Provide small bites to pair with each taste: It can be overkill to serve a full meal alongside a wine tasting, but having small snacks on hand that pair nicely with your wines will enhance the overall experience, and keep your guests from getting too hungry! Clif Winery offers a variety of paprika-spiced almonds, dried cherries, and roasted pistachios that pair perfectly with different varietals.
More wine tasting tips after the break!
Do your homework: Wine tasting is much more fun with a little background on the wine. At Clif, the winemaker's daughter was there doing the pours, giving interesting info on each wine. You may not know the maker of your wines personally, but find out a little about each one to share with your guests. If you're having guests contribute wine as well, ask them to bring a couple fun facts about each wine, even if it's just why they chose that bottle.
Encourage guests to take notes: Note-taking may seem like a bit much at an informal tasting in your living room, but even if you're just tasting a few wines, it's easy to forget what each one tasted like, or which ones you liked best. You don't have to use "official" wine tasting terms, but encourage your friends to jot down notes about their impressions of each wine, so at the end of the tasting, everyone can discuss their favorite sips.