How to Make Better Trail Mix
6 Ways to Perk Up Bland and Boring Trail Mix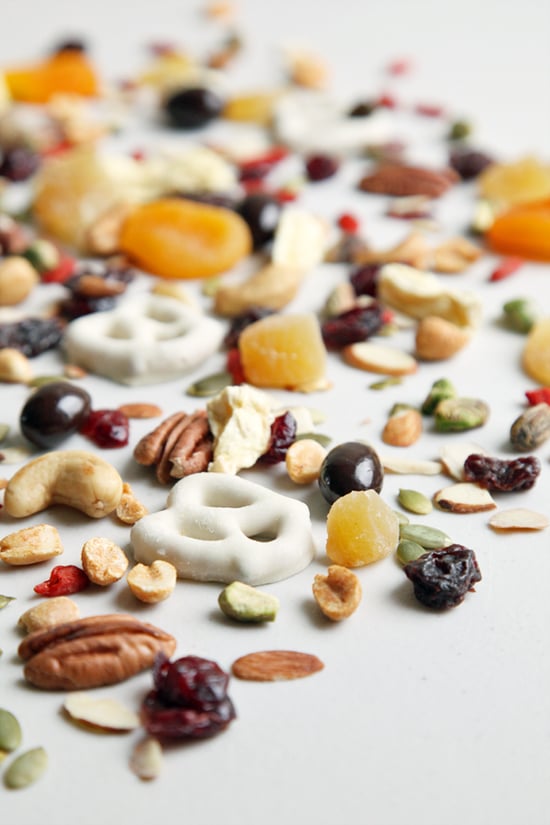 While a store-bought bag of trail mix can satisfy a craving, trail mix is by its nature customizable, so why not tweak and tinker in order to find the exact flavor profile you're after? Stick to these essential guidelines when compiling a new signature blend and your results are bound to sing.
Roast your nuts and seeds: Nuts and seeds shine when roasted briefly; simply preheat your oven to 350ºF, lay the nuts out on a sheet pan in a single layer, and toast for 6-10 minutes, or until fragrant and lightly golden. Alternatively, buy them pre-roasted, or toast them on the stove.
Don't forget the salt! Sweet flavors perk up when enhanced with a pinch of salt. Consider including at least one salty element to your trail mix, such as roasted salted peanuts, almonds, shelled pistachios, or cashews; peanut-butter-stuffed pretzel bites; pretzel M&M's; or yogurt-covered pretzels. If none of those flavors jive with your flavor profile, simply toss dried fruits with a pinch of flaky sea salt.
Keep reading for four more tips.
Use like-sized ingredients: Dried apricots, mango, figs, dates, apple rings, and candied ginger are all excellent trail mix additions. Unfortunately, they tend to get lost in the mix if included whole, thanks to their large size. Give them a quick chop and they'll distribute through the mix more evenly. If you're looking to add salt, do so at this point, as it will adhere better to the slightly sticky cut surfaces.
Punch up flavors with acid: Does your mix taste a bit bland? Just like salt, acid enhances other flavors, so include at least one tart addition. Some suggestions: dried cranberries, tart cherries, mango, papaya, goji berries, freeze-dried pineapple, or strawberries.
Bring on the chocolate: While this one could be optional, chocolate is a mood-booster and adds a certain creamy, bitter element. Look to bittersweet chocolate chips, chocolate-covered almonds or macademia nuts, M&M's, or chocolate-covered cacao nibs.
Think outside the box: Turn to the bulk bins at the supermarket when looking for new ideas, since the investment (and risk) is minor when buying small handfuls. Unconventional additions such as li hing mui plums, wasabi peas, flaked coconut, miniature peanut butter cups, and chocolate-covered espresso beans distinguish homemade trail mix from uninspired store-bought blends.
What are your trail-mix tips?