How to Make Cocktails at Home
5 Cocktail Elements to Make at Home, and 3 to Leave to the Pros
Home mixology is having a moment right now, and rightfully so: why pay $10 or more for a cocktail at a local bar, when you can mix up something equally delicious for much less? But being your own bartender does come with its limitations, and you may still need to rely on the liquor store or your favorite bar for more complicated or obscure ingredients. So which cocktail elements should you DIY, and which should you leave to the pros? Find out!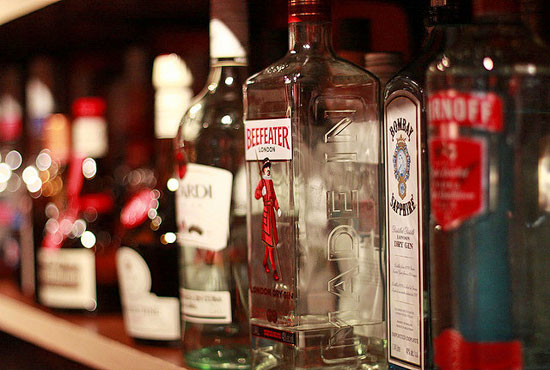 Simple syrup: Got sugar? How about water? Then you've got yourself a batch of simple syrup! If you need syrup fast and don't have time to wait for it to cool, try this trick: combine equal parts sugar and cool water in a container with a lid (like a mason jar), and shake vigorously until it starts to combine. Leave it be for a minute or two, then give it another shake; repeat until the sugar is dissolved.
Grenadine: Homemade grenadine is a cinch to make, and the resulting syrup is tart and flavorful. It'll add more depth to your drinks than a splash of supersweet Rose's will.
Flavored liquors: If you're wary of investing in an entire bottled of flavored liquor, this one's for you. Skip the bottle of citron vodka, and make your own instead. You can use any flavors you want, and make it as strong as you want. Try making your own gin or mixing up a batch of limoncello this way, too!
Ice: This one may seem like a no-brainer, but be honest: how many times have you had to put your mixology on hold to make an ice run? Do yourself a favor and keep a few full ice cube trays in your freezer, or even a shallow pan filled with water. Dump the frozen block into a Ziploc bag and whack it a couple times with your muddler, and you've got instant (and free) crushed ice.
Sweet and sour mix: Don't be fooled by the plastic bottles of sweet and sour mix in every liquor aisle; the mix is really just simple syrup with citrus juice added. Make your own sweet and sour for a fresher, less cloyingly sweet result.
Keep reading to find out which cocktail ingredients may be best left to the pros!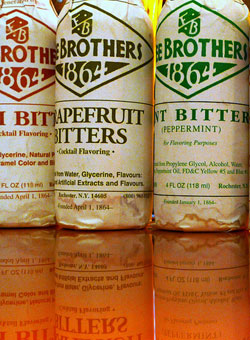 Tonic: Homemade tonic actually isn't quite as complicated as it sounds. But many of the ingredients aren't easily sourced, and by the time you've compiled them all and made your syrup, you'll have spent more money than you would've on a pre-made bottle. If Schweppes or Canada Dry tonics are too sweet and blah for your taste, look for brands like Fever Tree, Q, or Fentiman's.
Bitters: Making your own bitters carries the same risks as DIYing tonic water: the ingredients aren't easy to get your hands on (calimus, quassia, wormwood . . . I know), and the process takes a while (10 days or more). It might be a fun project if you're looking for a culinary challenge, but if you're just looking for a good Manhattan, store-bought is probably the way to go.
Shrub: Shrubs, or fruit-infused vinegars, are incredibly popular cocktail ingredients right now, and it's easy to see why. They add a fruity tartness to drinks, without being too strong or too sweet. The downside? They're time-consuming and stinky to make! Unless you can't live without a little shrub in your drinks at home, do yourself a favor and let your favorite bartender do the dirty work for you.
Source: Flickr users waferboard and pink_fish13