How to Make Crispy Salami
Love Bacon? Wait Till You Try Salami Chips!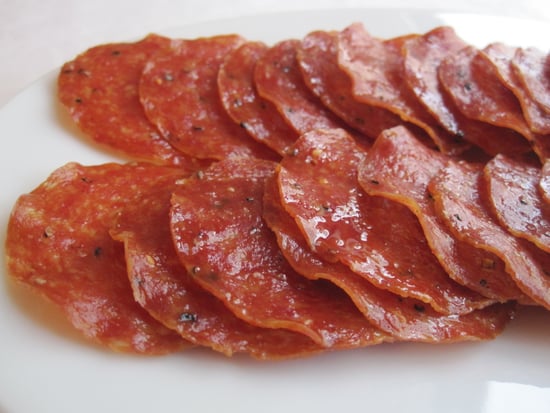 A couple of weeks ago at the fifth annual Burger Bash in South Beach, Michael Symon took home the top honor for best burger. While some people argued it was his mother-in-law's secret sauce that made the burger people's choice, I believe it was the crispy salami that made the burger win. Crispy salami is like bacon — it makes everything taste better! It's an easy and delicious appetizer served on its own, and when tossed in a sandwich or burger, the crispy salami takes it to a whole new level. Inspired by Symon's burger, I tested out two methods for making salami chips. To find out which I preferred, keep reading.
First, I simply pan-fried the salami in a hot pan. It shrinks in size, but like bacon, pops and sizzles with fat. Since I prefer to bake bacon, I applied the same technique for the salami. You can cook twice as much, and you don't have to worry about flipping the salami. Here's how it's done:
Crispy Salami
From Katie Sweeney
Ingredients
30 slices of genoa-dry Italian salami
Directions
Preheat the oven to 325 degrees F.
Line a large baking sheet with foil and arrange the salami in a single layer on top.
Bake for 20 minutes, until the salami is crispy and chip-like.
Carefully transfer to paper towels and blot to remove the fat. Let cool.
Enjoy alone, with cheese, or in a sandwich or burger!
Serves 8-10.
Information
Category

Meats, Appetizers

Cuisine

Italian