How to Make Crispy Tortilla Strips Without Frying Them
Create Crispy Tortilla Strips Without Frying Them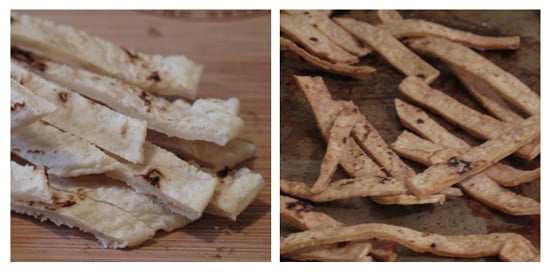 I've long had a love-hate relationship with tortilla strips, those hairpin-thin bites that lend a necessary crunch to black bean soup or taco salad. I adore their crispiness, but they're not easy to find, and if I'm lucky enough to track them down, I never need a whole bag. Although I'd make tortilla strips at home, I'm reluctant to bust out a deep fryer just for a little garnish.
Thankfully, I've now got the perfect solution to my quandary. One can actually bake tortilla strips, and they arrive at the same satisfying crunchiness. I discovered this thanks to Everyday Food and an ingenious recipe for shrimp tortilla soup. The key is to crank up the oven to very high heat — 450 degrees F — toss the tortilla with a generous amount of oil, and bake just until golden brown, about five minutes.
Have you ever tried to make tortilla strips at home? What's your trick?