How to Make Leftover Pasta Frittata
Got Leftover Spaghetti? Try This!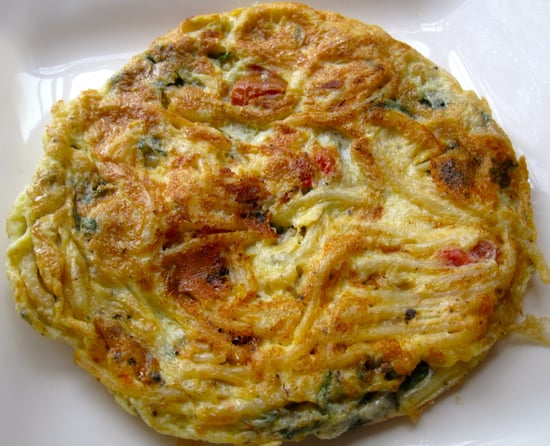 Leftover pasta is one of the world's least appetizing leftovers. It never tastes as good the next day, and it's hard to transform it into a delicious new dish. However, one creative and tasty way to make use of it is to put it in a frittata! Although it may sound gross — I was a skeptic at first — leftover spaghetti is an excellent filling for frittata. When cooked with eggs, the pasta simply tastes starchy and similar to potatoes. Read on to learn how to make a leftover pasta frittata.
Start by taking the pasta out of the fridge. Depending on how much pasta you have left over, beat up some eggs. I used two eggs because I only had a little bit of spaghetti with tomatoes, basil, and pecorino left over.
Season the eggs with salt and pepper. Feel free to bulk up the frittata with more vegetables, herbs, or seasonings. I added chopped fresh basil to the eggs.
Heat a skillet over medium heat and add some oil or butter.
When the skillet is hot, pour in the eggs. Dump in the pasta and make sure it is distributed evenly.
Cook as you would a normal frittata, flipping once or finishing in the oven. Enjoy immediately.
Have you ever put spaghetti in a frittata? What do you make with leftover pasta?
Cover image photo: Susannah Chen