How to Make Pizza Dough
Michael Chiarello's Technique For Homemade Pizza Dough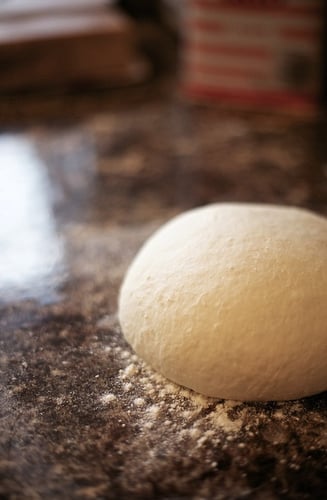 I'm currently obsessed with making homemade pizza, so when I sat down with Michael Chiarello last week at the Food & Wine Classic in Aspen, I asked the chef how he makes pizza at his house.
Here's the method he shared:
Chiarello pointed out that like most skills, practice helps, so the more pizza you make the better at it you will become. Start by following his recipe for basic pizza dough.
Make sure that the dough has enough moisture. Once it's well combined, knead it with both hands in a counterclockwise motion until it's very smooth like a baby's bottom.
Coat the bottom and top of the dough in olive oil and place in a bowl with a damp rag covering the top. It should double in size.
Knock it out of the bowl, and with a scale, measure out 4-5 ounces of dough. Knead it with both hands again, then form into a ball. Oil all sides of the ball and place in a bowl to rise a second time. It should double in size.
Roll it out and bake on a floured baking sheet. If you want to freeze the dough, place it in the freezer right after the second rise.
Do you make homemade pizza dough? What's been your experience with it?
Source: Flickr User I'm George