How to Make Ravioli
How to Make Homemade Ravioli, in Pictures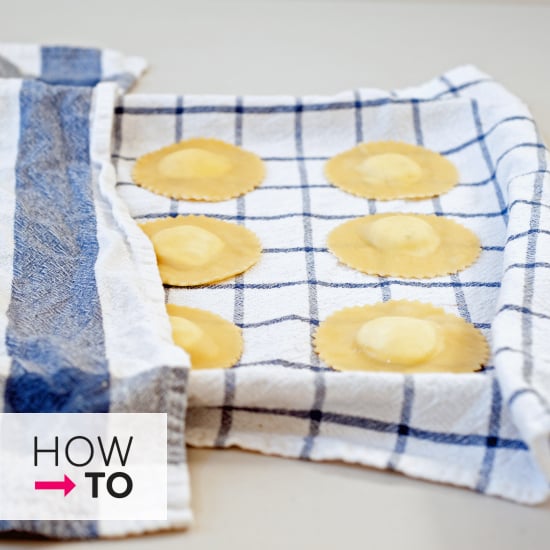 It's time to get over your fear of making ravioli at home. While the process isn't superspeedy, it's not particularly difficult either, and the results are well worth the effort. Read on for a step-by-step explanation of how to make this impressive dish, then get to experimenting with filling and sauce combinations.
Here's what you'll need:
Keep reading for the lowdown on how to assemble the ravioli.
Fill the Ravioli
Lay out two similarly sized sheets of pasta dough beside each other on a lightly floured surface. Dollop a rounded teaspoon of filling onto one sheet of the pasta dough every two inches, leaving about two inches of space on both the bottom and top of the sheet of pasta. Gently flatten the filling into a disc with damp fingertips. Brush egg wash around each disc of filling, and lay the second sheet of pasta over the first. Starting with the ravioli closest to you, gently seal the two sheets of pasta together, pressing out the air bubbles as you go. Repeat with the remaining ravioli.
Stamp Out the Ravioli
Use the ravioli stamp or cookie cutter to stamp out each ravioli. Center the stamp around the filling, and press down firmly, making sure that it has cut all the way through the dough before pulling up. Transfer each ravioli to a half-sheet pan lined with a clean dish towel; cover with another dish towel to keep the dough from drying out while shaping the remaining ravioli. Repeat until you use up all the filling.
Cook the Ravioli
Bring a large pan of generously salted water to a boil. Cook the ravioli until they float to the surface and are al dente — about 2-3 minutes — stirring gently when they're first added to the water to avoid sticking. Drain off the water, sauce the ravioli, and serve.
Not quite ready to tackle making ravioli from scratch? Try this easy method that substitutes wonton wrappers for pasta dough.