How to Make Soup Creamy
6 Ways to Take Your Soup Up a Notch — Without Adding Actual Cream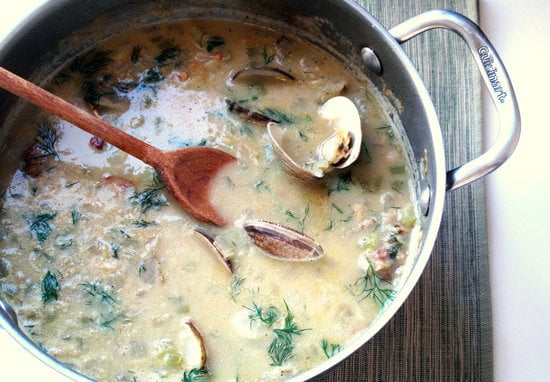 Clear-broth soups are delicious in their own right, but sometimes we just want something a little heartier and more indulgent. Cream-based soups are pretty simple to put together, but you can incorporate different elements — grains, lighter dairy products, or cruciferous vegetables — and end up with a delightfully creamy soup that doesn't actually contain a pint of cream.
Add a cup of almond milk to your recipe, as seen here with this lighter take on clam chowder.
Toss in some steamed cauliflower and mash or blend everything together.
Four more different ways to thicken up your soups, when you keep reading.
Stir in yogurt, sour cream, or butter for slightly different flavors and mouthfeels. Melting butter into your soup won't be creamy in the traditional sense, but it will leave you with a richer, fuller-bodied broth.
Throw a handful of cooked rice into your soup, then blend together.
Blend your pot of soup in a high-powered blender (in batches if you can't fit it all) until it has a creamy texture.
Steam potatoes and mash them into any soup recipe for a starchier texture.
Do you have any creamy add-ins for soup that you love to use?