How to Pack Burgers
How to Pack Burgers For a Picnic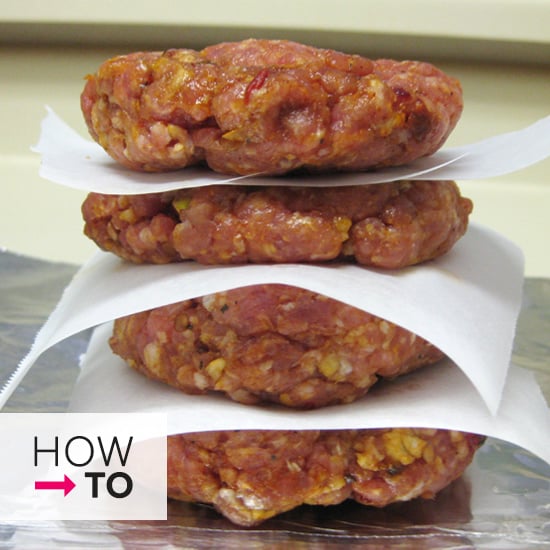 Burgers — a beloved backyard, picnic, and barbecue staple — aren't the easiest food to transport, but it can be done. If you're planning on packing patties to grill at a remote location, here's how to pull off the stunt with ease.
Several hours or the night before, prep any condiments for the burger. Slice toppings that won't spoil quickly, like tomatoes or lettuce leaves.
Shape ground meat into patties and place on a baking sheet lined with plastic wrap.
Cut parchment paper into squares slightly larger than your burger (4 inches by 5 inches should do the trick for most). The number of squares you'll need, of course, depends on how many patties you make, so allot need one less square than the number of patties patties (for example, if you're grilling 16 patties, then cut 15 parchment paper squares).
Spread a large sheet of heavy-duty aluminum foil on a work surface.
Keep reading to see our tricks for packing burger patties perfectly.
Place a patty in the middle of the foil. Top with a parchment paper square. Place another patty on top of the parchment paper. Repeat until you have a short stack of four patties. Fold the foil up and around to enclose patty stack.
Repeat, layering patty with parchment paper in stacks of four patties each, until all of your patties are packed.
Store patty packs in fridge until ready to leave. Place stacks in a cooler with reusable ice packs (regular ice isn't recommended, as it could melt all over the meat).
Grill and enjoy at your destination of choice!
Got a tip for transporting picnic food? Share it with us below.