How to Pair Grilled Cheese With Wine
I'll Take Some Wine With That Grilled Cheese, Please!
We've learned a lot over the years from Laura Werlin, one of the country's foremost cheese experts. In fact, we can't get enough of her new grilled cheese book, which is packed with recipes like this one filled with mozzarella, crispy prosciutto, and broccoli rabe. So it's no surprise that during her seminar in South Beach, we had a front-row seat.
Werlin's class was all about pairing grilled cheese sandwiches — perhaps America's greatest comfort food — with wine, a beverage that can often be associated with fussier settings. I'd never thought to pair the two together, but after an hour of enjoying the likes of gruyère, gorgonzola, and hazelnut grilled cheese with ice wine, I was a true believer.
Lest you think pairing high and low is daunting, take note of Laura's useful tips. To see them, keep reading.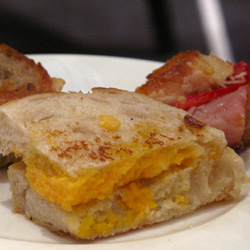 When enjoying a wine and grilled cheese pairing, sip the wine first before taking a bite of your food. The reason? "Cheese affects how wine tastes more than wine affects how cheese tastes," Werlin explained. This was a revelation to me.
Before pairing a grilled cheese sandwich with wine, be sure to try both the cheese and the wines individually first, to make sure you like them individually.
Consider textures in the pairing process — not just of the food, but also of the wines to go along with them. For instance, the lighter the cheese, the lighter the wine you're pairing it with should be.
Choose wines with tartness to help cut the heavy mouthfeel of a cheese. When we tasted a Marieke's gouda grilled cheese with spiced caraway, caramelized onions, and cumin, the wine paired with it was a 2007 Côte du Rhône. "My salivary glands just did a little dance in the back of my throat!" she exclaimed of the wine's acidity.
When buttering the bread for grilled cheese, use salted butter. Although the salt content in cheese is generous, the bread still requires its own seasoning. In fact, to add extra oomph, Laura likes to grate cheese into the salted butter to form a savory crust on the bread!
Have you ever tried to pair grilled cheese with wine?