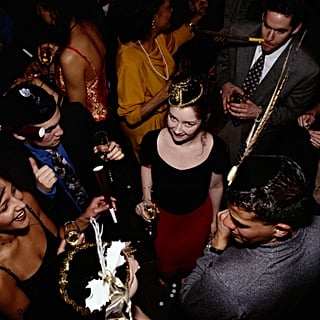 It's often the case that around the holidays — especially a highly-anticipated night like New Year's Eve — there's so much going on that more than one event falls during the same time.
Instead of committing yourself to attending one party only, why not party hop? It's a great way to catch up with all your friends and not miss out on anything.
Since party hopping is my favorite sport, I'm sharing my suggestions after the break.

Make a chart. List out the name of each party, the host/hostess, location, and time.
Use the chart to make a party map. Attend the party that starts the earliest first, then the next closest second, and the one that ends the latest last.
Be responsible. If you're in college or a big city, you may be able to walk from one party to the next. But if you can't, never drive after you've been drinking. Select a designated driver or take cabs.
Travel in a small group. Party hopping works best if you are in a pair or trio. Any more than four people and they become hard to keep track of.
Be realistic. You can't be everywhere all at once and if there's a time restriction, say 6 to 9 p.m. on a Thursday evening, you won't be able to attend five parties. It's just not possible!
Wear something versatile, cute, and comfortable, like a dress. It's better to be overdressed than underdressed.
Have fun! While I've made countless party plans with grand expectations to attend three to four events in the same day, sometimes I'll get to the second party and discover that the wine and conversation are flowing. If the party is too fabulous to move on, stay there!
Share your party-hopping tips and tales with us below.