How to Plan a Barbecue
5 Steps to Hosting the Best Summer BBQ
We're just kicking off Summer, and there's still plenty of time to throw your biggest grilling bash yet. Prep your backyard, secure a spot at the park, or haul your ice chest down to the beach. Follow these tips for a seamless Summer soiree that you'll actually be able to relax and enjoy.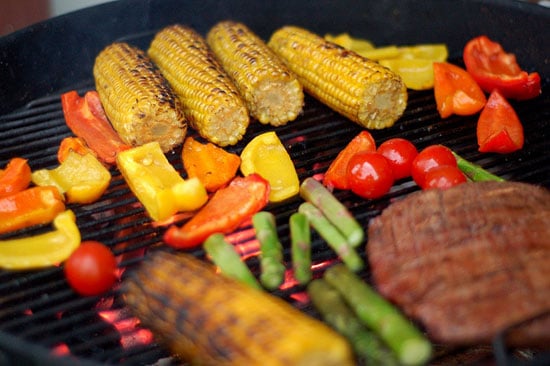 Choose an adaptable menu. Chances are, your guest list will include a variety of eaters, some of whom will want meat and some of whom will not. Choosing a menu that can be easily tweaked to suit different tastes will ensure that you don't spend your entire barbecue cooking up five separate meals. Sausages (pork, chicken, and soy), burgers (beef, turkey, and veg), and kebabs (meat and veggies on separate skewers) are versatile and delicious options.
Add a signature detail. If you're feeding a crowd, it's probably not the time to tackle labor-intensive dishes with pricey ingredients. Instead, keep the majority of your menu simple and easy, but add one signature detail or dish that will make your party stand out. If you're known for your seven-layer dip, take the time to whip up a fabulous batch, but serve it alongside premade hummus. Into canning and preserving? Make your own pickles and relishes to serve atop of store-bought 'dogs.
For the rest of my suggestions, read on.
Keep dessert simple. Desserts can be so fun to make, it's hard to resist planning an elaborate and complicated dish. But by the time the final course rolls around, you'll be ready to relax, and your crowd may be thinning out. So skip the homemade ice cream sandwiches, and instead pick up a couple dozen mini cupcakes or whoopie pies from your favorite bakery.
Have nonrequired activities ready. If you've done your job stuffing your guests full of delicious food and drinks, there's no way anyone's going to be bored. But to keep the barbecue from hitting a slump partway through, have a few activities in your back pocket to keep the energy level high. Bocce ball or a beanbag toss can be fun ways to keep everyone moving around and mingling, or turn a simple dessert into a

DIY

by having guests gather 'round the fire and build their own s'mores.
Mix up your drinks. You're not serving a one-size-fits-all menu, so why serve just one type of alcohol? Pick up cases of beer on the cheap at your local big box store and grab a few affordable bottles of red and white wine. To really up the ante, throw in a pitcher cocktail or a batch of sangria as well. Add a few bottles of sparkling water for any nondrinkers in the crowd, and everyone wins!
Source: Flickr user hepp