How Popular Is Google's Recipe View?
Have You Been Using Google Recipe View?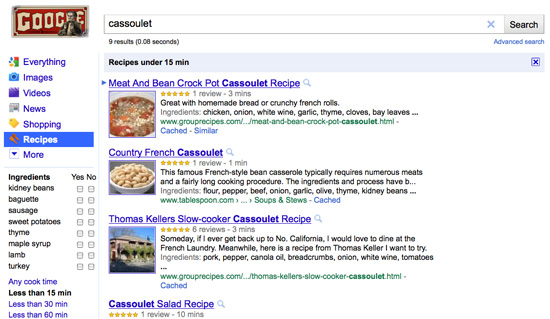 Google recently made headlines for launching Recipe View, a new way to search for and see online recipes. A month in, Food52 founder and New York Times writer Amanda Hesser shares her two cents, commenting that the "misguided" new search is "robotic rather than thoughtful."
Hesser goes on to explain how the engine's search algorithm — and its options for the ways in which results are refined — give vast advantage to large, established recipe websites that focus on quick, easy, and low-calorie recipes. In doing this, "Google unwittingly — but damagingly — promotes a cooking culture focused on speed and diets." It doesn't prioritize other crucial factors, such as comments, number of shares, and Facebook "likes."
Although I use Google a ton, I've spent little time with this new technology; I'd rather go directly to my trusted sources. What's been your experience with it?