How to Prep a Fennel Bulb
Pointers For Properly Prepping a Fennel Bulb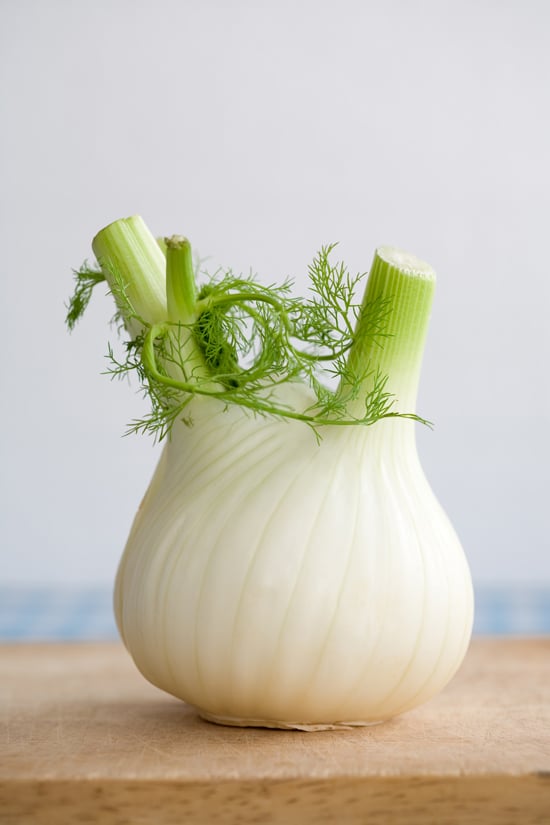 Fennel, a slightly sweet, licorice-like root vegetable, isn't just available year-round; it's also incredibly versatile, largely in part because its bulb, stalks, and fronds are all edible. A key ingredient in Mediterranean and Californian cuisine, fennel tastes amazing roasted, grilled, or sautéed. To make the most of fennel, read our tips for washing and prepping this multifunctional root vegetable.
Pluck the fronds: Rinse the exterior of the fennel, then use your fingers to pluck the wispy, feathery stems, also known as fennel fronds. Set those aside to mix into salad greens; to season white, flaky fish; or to whisk into light vinaigrettes.
Prep the bulb: Laying the fennel bulb at its side, cut away the tough root base of the fennel. Remove the green stalks, reserving them for soup stocks or to create a bed of flavor under roasted chicken (the green stalks tend to be more fibrous, so it's best if they are used in long, slow cooking situations to extract the flavors from the fibers).
Slice it thin: Fennel is fibrous and tastes strongly of licorice; therefore, it's best prepared in paper-thin slices when eaten raw or sautéed. First, set the fennel on the cutting board with the root side flat against the board. Slice the fennel vertically from the stem end down to the root end. Then, turn the fennel 90 degrees so the core of the fennel is flat against the cutting board, and slice the fennel as thinly as possible. Alternatively, use a mandoline for uniform slices.
Cut a large dice: When roasting or grilling fennel, larger, one- to two-inch pieces hold up better in high heat conditions. After cutting the fennel in two half-pieces, peel and break off all the layers of fennel. Then, trim each of the layers into even, square pieces.