How to Prepare Cherries
In Season: Cherries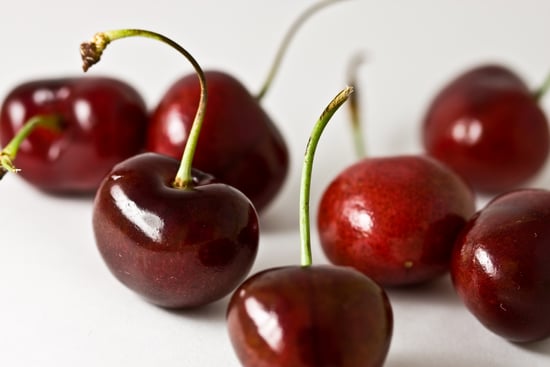 The arrival of cherry season has always signaled that transition from bright, warm Spring into the long, languid days of Summer. There's something about savoring a cherry and trying to scrape every last scrap of sweet fruit off the pit that mirrors those slow, balmy days and nights. But just as Summer months are fleeting, so is cherry season: it lasts only through July. So if you're craving a handful, run to the farmers market now! To learn more about the varieties and how to choose and cook with cherries, just read on.
Varieties
In the US, most commercially available cherries fall into two categories, sweet and sour cherries, that appear at farmers markets and grocery stores in the following varieties:
Bing: A sweet cherry known for its dark red skin and intensely sweet flesh, Bings are the most common variety in stores. Originally from Milwaukie, OR, this variety was named for horticulturalist Seth Lewelling's foreman, Ah Bing.
Rainier: Developed in 1952 at Washington State University, Rainier cherries are a cross between Bing and Van cultivars and are named for Washington's regal Mount Rainier. The skin is a mottled yellow-red, and the flesh is yellow and sweet.
Brooks: Brooks cherries, which ripen earlier than other varieties, grow well in hot climates such as California. They're characterized by their red or pink flesh and juicy but firm interiors.
Tulare: Tulares ripen just ahead of Bing cherries, but their flesh is not quite as firm or sweet.
Sour (or tart): Generally found in the form of Nanking or Evans varieties, sour cherries grow mainly in Michigan. Until recently, these pucker-inducing cherries were used mostly for baking and cooking, but the high concentration of antioxidants in tart cherries have turned them into a popular health item.
Selection and Storage
When picking cherries, select fruits that are firm, plump, and without blemishes. Cherries are among the fruits that don't ripen once they've been picked, so choose the darkest ones for the sweetest taste. Don't discount those bright red cherries, however: they make a wonderful tart addition to pies, jams, and drinks.
Cherries bruise easily, so store them in a wide bowl to help distribute the weight of the fruit. Avoid shaking the bowl, and don't place anything on top of it. Cover the bowl loosely with a towel (to promote air circulation), and keep them in the refrigerator. Make sure to enjoy them within two to four days!
Preparation
Of course, eating cherries straight up is the best way to enjoy this Summer fruit, but you can make them a regular part of your Summer kitchen in a multitude of ways:
What are your favorite tips for preparing cherries?
Source: Flickr User Benson Kua