How to Prepare Nobu Food at Home
Like Nobu's Japanese? Try These Preparations at Home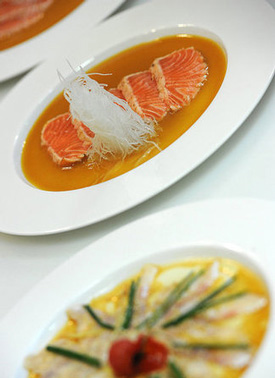 On the final day of the South Beach Food & Wine Festival, wine expert Joshua Wesson and Nobu Miami executive chef Thomas Buckley held a seminar of pairing wine with sushi, a fairly apropros way to end the celebration after four long days of indulging in burgers and grilled cheese.
There, I sampled pairings like sashimi tacos with Alsatian Crémant, vegetable rolls with Greece's Moschofilero, and black cod butter lettuce wraps with a light-bodied Willamette Valley Pinot Noir.
What impressed me the most, however, was the simplicity of preparation involved in making the European- and South American-influenced Japanese cuisine that's so storied at Nobu Matsuhisa's restaurants.

For some of chef Buckley's tips for re-creating Matsuhisa's dishes at home, keep on reading.

I loved a tai sashimi topped with garlic chips for a much-needed crunch. Make your own garlic chips by slicing elephant garlic (which is larger and less likely to burn) thinly on a mandolin; blanch it in a mix of one part milk and one part water. Fry it until crispy in oil around 320 degrees F.
For what Buckley calls a "new-style" salmon marinade, combine nine parts extra-virgin olive oil to one part sesame oil. Heat with soy sauce and chives; top with sesame seeds and a small amount of garlic.
Dried miso is a brilliant way to add umami instead of soy sauce. Spread white miso thinly on a baking sheet, and heat in the oven at a very low temperature. Let it dry out overnight; break it into small pieces and use it as a topping on raw fish.