How to Protect Wine Without a Wine Sleeve
Kitchen Hacks: The Oven Mitt as Wine Traveler
Welcome to our new series Kitchen Hacks, where we take ordinary household objects and transform them into useful kitchen tools. We know it's difficult to stock a kitchen with every gizmo and gadget, especially if you live in tight quarters. So instead of junking up your drawers with unused items, try make-shifting kitchen tools with our tips.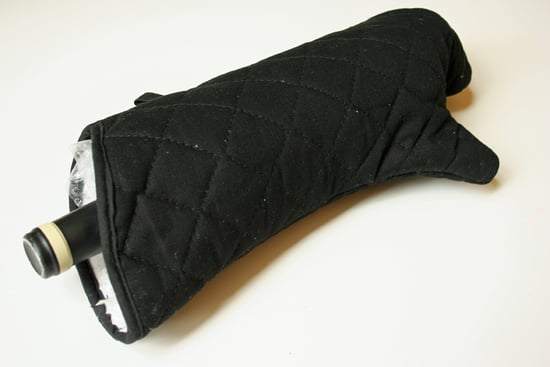 It's always a messy and upsetting event when a wine bottle cracks and its precious contents leak during transit. The diligent packer may cover it in styrofoam or bubble wrap, but many of us are guilty of haphazardly wrapping the bottles in old kitchen towels and crossing our fingers they arrive to the next destination in one piece.
Here's a new way to easily and securely wrap up wine if you don't have a wine sleeve handy. We recently received a bottle of Las Rocas Garnacha, outfitted in the most unexpected makeshift wine sleeve: a kitchen mitt! A fluffy cotton kitchen mitt fits a wine bottle snugly — plus it also seconds as a cute gift if you're bringing the bottle over to a friend's place. Just be sure to find a long glove, so the neck of the bottle stays protected, too.
Know of any other smart ways to transport wine? Share them with us below.