How to Reduce Dishes
Quick Tips For a Breezy Cleanup When Baking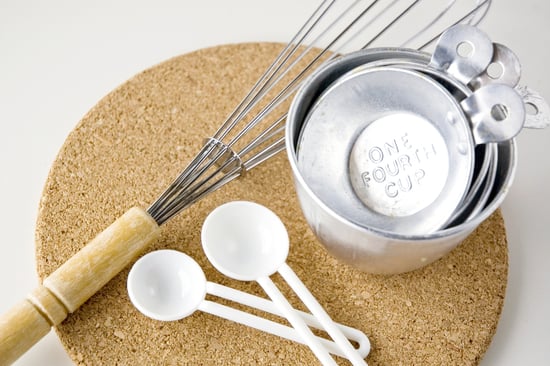 If you love baking and absolutely loathe dishes, then there's only one thing you can do: avoid washing extra dishes by dirtying the least amount of kitchen equipment. Here are a few tips to keep the dishes at bay and the actual dishwashing part easier, so you can spend more time getting down to the fun part of the job — the taste test.
Set out a large plate. Place all the equipment you will need on the plate like measuring cups, spoons, a knife, and a spatula. It will keep your counters clean and clutter-free.
Measure all dry ingredients, then wet. So the dry ingredients don't stick inside the spoons or cups, measure the dry ingredients first before measuring the wet ingredients.
Don't put a single dish in the sink while prepping the batter. Avoid putting bowls, whisks, knives, and other equipment in the sink. Chances are you will need it again, so stash it on the large plate for easy grabs.
Keep reading for more cleanup tips.
Think multitaskers, not unitaskers. Can a measuring cup be used to crack the eggs in? Can you get by with only one spatula? Always attempt to use the equipment you already have out in various manners.
Rinse with hot water. If you can't get to the dishes right away, rinse them immediately in hot water, so at least all of the batter and food residue is gone and thus won't adhere to the dishes, making dishwashing a more difficult process later.
Soak all the utensils in the mixing bowl. Avoid scrubbing every single utensil by filling the dirty mixing bowl with hot water and soap, then add all of your measuring spoons and cups. The batter will disintegrate and will cut down on the scrubbing time.
Share your tips for a mess-free kitchen below!