How to Roast Chicken in Cast Iron
The Easiest, Juiciest Way to Roast Chicken — Ever
Roast chicken makes a ridiculously easy weeknight meal, but in the past, my recipes often resulted in too-dry meat. Then, I discovered the cast-iron method, and I've never looked back.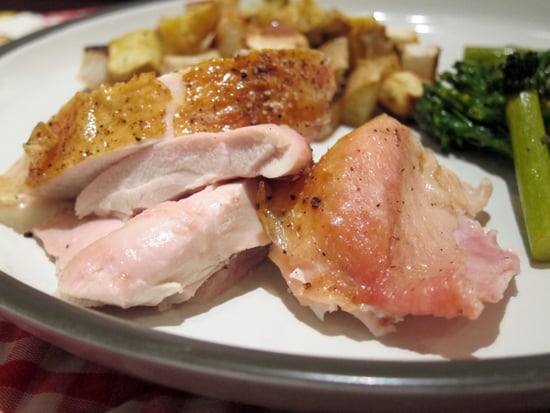 With this recipe, all you need is a chicken, a cast-iron skillet (a 10-inch skillet works well), and salt and pepper. Getting the chicken super dry before roasting produces a perfectly browned skin, and the cast iron keeps the rendered fat from burning. Follow this method, at this temp, for this amount of time, and the chicken will come out perfectly moist and delicious. Get the best, easiest roast chicken recipe.
For added flair, stuff the cavity with lemon wedges or a few stems of rosemary, or just squeeze some lemon juice on top. But even without any extra effort, this chicken is an easy gourmet feast.
Ingredients
one 3- to 3.5-pound chicken
1 T. salt
coarsely ground black pepper to taste
Directions
Place your oven rack in the lower third of the oven and preheat to 450 degrees.
Get yourself a good chicken — 3 to 3.5 lbs is ideal — and rinse it inside and out under cold running water.
Using paper towels, dry the bird thoroughly inside and out. The chicken must be bone dry or it will steam rather than brown.
Set it in a cast-iron skillet and generously season with 1 tbsp kosher salt and coarsely ground black pepper to taste. Place the skillet in the preheated oven and go about your business.
For doneness: Slit underside of thigh — juices must run clear (about 45 minutes). The high heat turns the chicken a golden brown, and it's juicy as hell.
Information
Category

Poultry, Main Dishes

Cuisine

North American