How to Roast Fruit Vegetables and Meat
Know Your Techniques: Oven-Roasting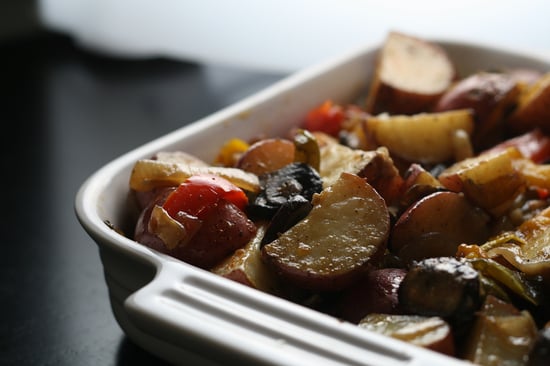 If one of your culinary resolutions this year has been to get more acquainted with basic skills in the kitchen, we've got the lowdown on a number of essential cooking techniques that are important to know. One of our favorite cooking methods is roasting. When done correctly, the technique truly coaxes more flavor out of foods — and employing the help of the oven is a surefire way to keep your hearth warm during the colder months as well.
Oven-roasting involves little more than dry heat, and is ideal for just about any type of whole food, from large cuts of meat and whole fish to fruits, vegetables, and seeds. Find out more — including how to roast any fruit or vegetable — when you keep reading.
To roast a fruit or vegetable, cut it into uniform chunks, toss with oil and seasoning, spread evenly across a baking sheet, and bake at a higher temperature (400ºF to 425ºF) until fork-tender and golden brown around the edges. For larger cuts of animal protein, slow-roasting in an oven is advantageous; allowing the meat to cook at a lower temperature for a longer period of time leads to less moisture loss and more tender, fall-off-the-bone results. Often, the meat is browned at high heat prior to roasting to impart a deep brown color, enhance flavor, and create a crust to seal in moisture. Here are a few of our favorite recipes that employ roasting:
Roasted chestnuts
Oven-toasted pumpkin seeds
Basic roasted sweet potatoes
Cast iron roast chicken
Beef tenderloin roast
Tell me: what's been roasting in your oven lately?
Source: Flickr User beebrulee