How to Select Dinnerware For Your Wedding Registry
How to Select Dinnerware For Your Registry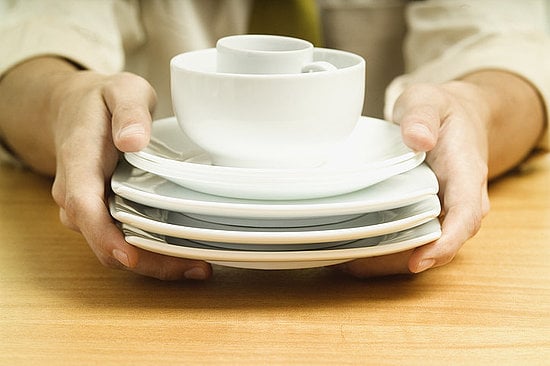 The scanner gun is unholstered and a store full of kitchen delights spreads out in front of you. But before you pull that trigger, have you done your research? While wedding registries may seem like a green light to sign up for every dish, appliance, and throw pillow of your dreams, making smart list choices will help ensure that your generous guests buy the items you can really use . . . and eliminate the need to rent a storage locker to stockpile your new stuff.
First up, we're serving up some tips on how to select the best dinnerware for your needs and lifestyle. Those plates, bowls, and coffee cups may seem awfully plain next to that shiny chrome espresso machine, but you'll end up using them more frequently than virtually any other item in your kitchen cabinets, so you'd better love them for the long haul. Ready to dish on dinnerware? Just read on.
Material and Durability
Dinnerware comes in several finishes and materials, but earthenware, stoneware, porcelain, and bone china are the most common. Each has its own pros and cons, but if this will be your everyday set, consider how it will hold up under daily use. Ask yourself: are you happy to hand-wash your plates or would you prefer to throw them in the dishwasher? Do you have children who like to use their dinner plates as frisbees? Talk to your registry consultant about your specific needs so she can recommend the best options for you.
Usage
A traditional five-piece set of dinnerware includes dinner, salad, and dessert plates and a teacup and saucer. But you can also add on matching soup bowls, cereal bowls, coffee mugs, pasta dishes, and decorative chargers. Think about what you will actually use and how you plan to entertain because all of these items take up precious cabinet space!
Storage
If your home has plenty of cabinet, closet, or basement space, congratulations! You can register to your heart's content. For those of us who face stricter space restrictions, some restraint may be in order. Consider how many place settings you will need. Does your dining room seat only six guests at a time? Or do you expect to throw gala dinner parties for 12? And will you need an everyday set only, or do you have space to store and/or display fine china as well?
Style
For some, a simple white porcelain or earthenware set will see them from wedding day to retirement, thanks to its timeless beauty. Others are bowled over by a pattern or a fiery color palette to spice up their kitchen. Think about whether you want to use your dinnerware for years to come or whether it just needs to dish it out through a few seasons. Also, if you can't bring yourself to register for every piece now, maybe you'll want to find a pattern or color that you can add to over the years for something that's truly unique to your sense of style.