How to Select Glassware For Your Wedding Registry
How to Select Glassware For Your Registry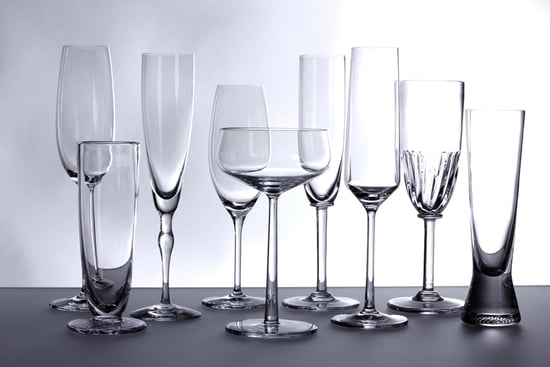 We've plated up some tips on selecting dinnerware for your wedding registry, but what about cocktail hour? Whether you prefer cocktails, wine, beer, or juicing, glassware is an important category to fill in your registry. Sure, you can go with the selection that your registry consultant recommends, but each couple has individual libation habits that don't always fit the standard mold. Thankfully, it's easy to concoct your ideal blend of glasses so long as you keep a few tips and considerations in mind. Ready to drink up? Just read on.
Material
As the name suggests, glassware is made of glass (no way!), but think about your lifestyle needs before stocking your registry. Homes with children (or even cats who enjoy countertop exploration) might want to add some short acrylic tumblers to the mix. If you entertain frequently, consider highly durable glass that resists breaks, chips, and scratches, and can handle a cycle in the dishwasher.
Function
Not every couple loves wine. If you and your honey prefer knocking back microbrews, ask your guests to stock you up on beer glasses for any occasion. Or if Mad Men inspires you to explore mixology, register for a suite of highballs, Old Fashioneds, specialty cocktail glasses, and essential tools to fill up your midcentury bar cart.
Of course, if you're a dabbler in fine wines, go for classic stemware, but consider what you drink and when. A set of all-around glasses are great for weeknight dinners at home, but you can step it up to specialized glasses intended for Bordeaux, Chardonnay, Syrah, Riesling, and even Montrachet. And don't forget Champagne flutes for celebrations!
Utility
Those stemless wine glasses sure looked sleek at the store, but once filled with a fine Burgundy, it does more tumbling than a tumbler. When shopping for glassware, don't be afraid to ask the registry consultant to bring along a pitcher of water so you can see the goods in action. Fill a Champagne flute halfway, then feel the weight of it in your hand. Set it on a flat surface and see how well it withstands a little table jiggling. If it feels off balance or tips at the slightest bump, you'll know how it will react in a real-life situation.
Style
Like dinnerware, glassware comes in an endless variety of styles, so don't assume you need to stick with classic shapes. Whether modern, architectural, traditional, stemmed, or stemless, your glassware reflects your personal style! So find what speaks to you and don't be afraid to choose glasses that toast your individuality as a couple.
Source: Flickr User Dinner Series