How to Select an Oyster Assortment
How to Select the Perfect Oyster Assortment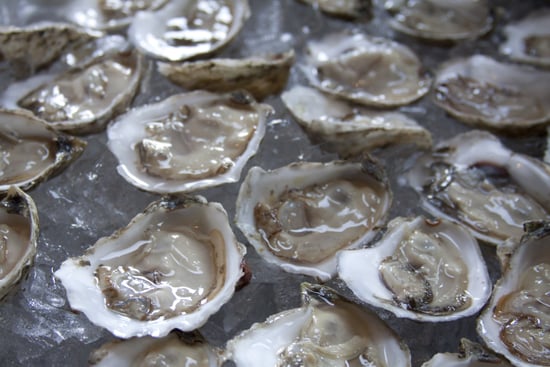 It's well-known lore that oysters can really titillate the palate (among other things), so I consulted Parke Ulrich, executive chef at Waterbar Restaurant in San Francisco, for tips on crafting the perfect oyster plate at home. Constructing a carefully curated selection of oysters is a bit of an art, much like creating a cheese plate. According to Chef Ulrich, oysters "have a great sense of place. They may be the same species but taste different depending on where they are actually grown." Since selecting an assortment of oysters can be intimidating (after all, various oysters get their flavors from tidal changes, minerality, water temperature, and other factors!), I asked Ulrich for a few pointers.
Map out your choices. Oyster characteristics — liquidy, chewy, briny, earthy — often depend upon the oyster's origin. For example, "Tomales Bays [oysters native to the San Francisco Bay Area] are briny and sweet because they are influenced by the cold water and fresh water in this area," Ulrich points out. To represent this pearl of the sea's vast variety of flavors, choose a geographically diverse assortment. Not only will you create a satisfying plate, but you'll have fun guessing each oyster's home!
Span the flavor spectrum. Briny oysters tend to be "cleaner tasting and have less of an aftertaste," Ulrich explains. The more earthy and complex the oyster, the more it lingers on your palate, an attribute that's better for the more advanced oyster eater. At your local market, keep an eye out for Ulrich's faves — Preston Points (from Tomales Bay in Northern California), Nootka Sounds (from British Columbia), and Wellfleet (from Cape Cod) — and opt for more obscure varieties that you're not apt to find at other restaurants.
For the rest of his tips, read on.
Ask for directions. When in doubt, don't be afraid to ask for help. Ulrich encourages at-home oyster eaters to ask plenty of questions of the oysterman at your local market and "always ask to sample so that you can taste it first before you purchase it." He recommends OysterGuide.com. With its interactive maps of oyster regions, it's a great site to research before you walk out the door.
Chill out. Most fish markets will send you home with your purchase on ice, but having a storage setup ready to go will keep your meal fresh and succulent. Don't let oysters get warm: "They will get drier and start to open their shells and then will lose their moisture inside," Ulrich cautions. Placing the oysters on ice over a drip tray is the best way to keep them at the ideal temperature and out of standing water.
Pair with a hot date. Waterbar's house-made hot sauce is Ulrich's favorite accompaniment to oysters on the half shell, but if you're nowhere near San Francisco this Feb. 14, he recommends a sauce that's not too hot and on the sweeter side to complement the brininess of the bivalve. For a last-minute meal, a simple squeeze of fresh lemon juice is all you need to season such a flavorful bite.
Happy shucking! What are your favorite oysters to serve at home?
Source: Flickr User Virginia Sea Grant