How to Select and Prepare Daikon Radishes
In Season: Daikon Radishes
Until I walked past a bin of them on my last trip to the Chinese market, I'd completely forgotten about daikon radishes. The long, white vegetable, which looks like an oversize carrot, isn't that prevalent at Western markets, but is a staple in Asian cuisines. Although the milky-fleshed daikon can be found year-round at some grocery stores, the vegetables are sweetest and mildest during the cold weather months.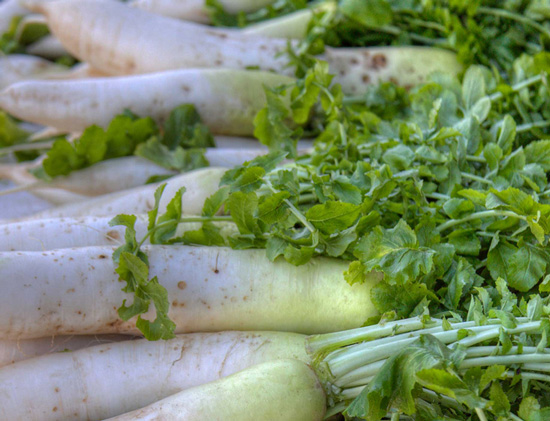 If possible, shop for them at an Asian supermarket, where they're likely to be fresh, as they may grow bitter with age. Store them in a cool, dry place, where they'll keep for several weeks. If you're new to cooking with radishes, the concept may seem daunting, but this peppery giant is surprisingly versatile. To learn a few ways to enjoy it, read more.


For those of you who've cooked with daikon or another white Asian radish before: how do you like to prepare it?
Source: Flickr User clayirving