How to Select Wedding Wines With a Blind Tasting
Go Blind When Choosing Wedding Wines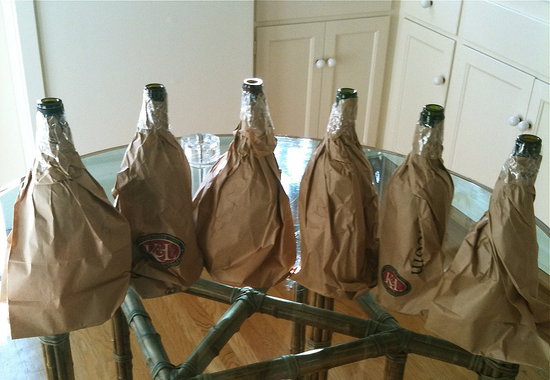 For many soon-to-be-weds, deciding on the dinner menu and the cake design are easy; it's the wine pairings that can be difficult. After all, how does one navigate today's intricate wine market to curate a selection of wines that are versatile, affordable, and widely appealing, yet memorable?
Lettie Teague, a wine writer for the Wall Street Journal, has addressed this conundrum, and offered some key takeaways. Since price is the single most important factor for most couples choosing wedding wines, she says, don't waste your money on anything too expensive and esoteric.
Another great way for a couple to decide on a wine together? Conduct a blind tasting, alongside food you plan to serve at your wedding. It won't just dispel any preconceived wine judgments; it'll also be a ton of fun. One of our co-workers, AlexisSF, recently did just that. See how she pulled it all together when you read more.


Unless you plan on catering food specifically to your wine tastes, don't select wedding wines until you've already determined what food will be served.
Begin by picking a red and a white varietal (along with a few backup options). To help narrow things down, research recommended wine pairings to go with your food.
Establish a price range. Check with the wedding caterer about any wine markups; this should be factored into your budget as well.
Allow everyone involved in the tasting (the bride, the groom, and anyone else closely included) to contribute wines to the tasting that meet the criteria above, and to verify that the wine can be purchased in large quantities.
Host the blind tasting with food similar to that being served at the wedding. Cover wine bottles in brown paper bags to obscure their labels, then number them. Pour participants each a glass of wine (if there are not enough glasses, split the tasting into several rounds). Number glasses with a Post-it that corresponds to each bottle.
Discuss, eliminating any off-the-bat rejections. Rate the remaining wines based on preference and ability to pair with food.
If there's a difficult tie between two, lift off the brown bags to make the final decision. AlexisSF found herself in this position, and wound up going with a Copain Syrah over a Bordeaux because it was more highly rated in Parker's Wine Buyer's Guide — and lower in price.