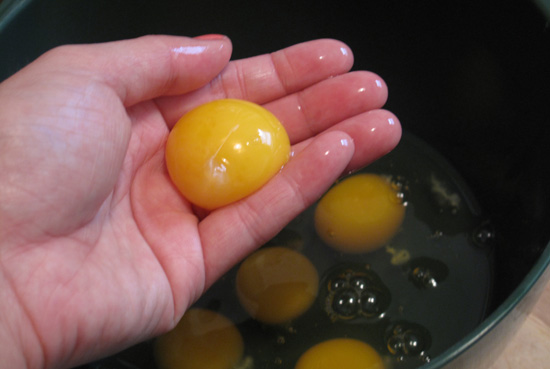 When I separate an egg for a Ramos gin fizz, I do so the good old-fashioned, pour-from-one-shell-to-the-other way. But what about when you're making, say, a homemade ice cream, and need to separate a dozen eggs? When bulk separation is necessary, here's my more efficient method:
I crack each egg, one at a time, into a small bowl. If it's A-OK, I transfer that egg to a large mixing bowl — this way, one bad egg won't ruin the whole mix.
With another medium-size mixing bowl nearby, I reach in with clean hands, and gently cradle each yolk, allowing the whites to slip through my fingers while being careful not to burst the yolk's membrane.
I then place each separated yolk, one at a time, into the medium mixing bowl.
Et voilà! I'm left with one bowl of yolks and a separate bowl of the remaining whites. How do you separate a bunch of eggs?