How to Steam Vegetables
Know Your Techniques: Steaming Vegetables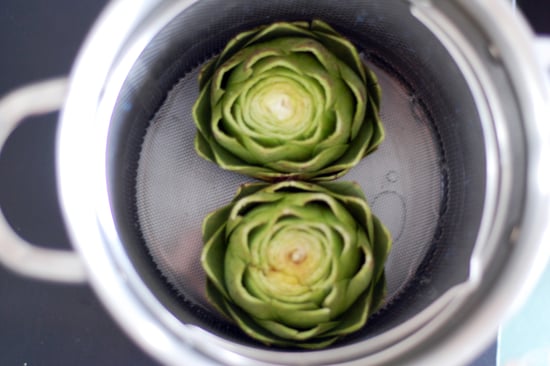 Steaming is arguably one of the healthiest ways to cook vegetables, but that doesn't mean it's boring. Not only do properly steamed vegetables retain most of their nutrients, but the brightly colored vegetables are incredibly appetizing and full of flavor.
There are a few tricks to perfect steaming — and they don't necessarily involve having to own a steamer!
The Basics
Firstly, the water should be boiling before you add the vegetables to your steamer basket to ensure even temperature throughout the cooking process. Try not to crowd the steamer with too many vegetables and take care to either properly layer your steamer basket according to cooking time or just cook up several batches. Firm vegetables like potatoes and carrots take longer to steam and should be placed toward the bottom of the steamer basket, while green beans and spinach take much less time and can be added later to the top.
Timing Is Everything
The most important part of steaming vegetables is the timing. Oversteam, and you'll suffer through bland, nutrient-poor, dull vegetables. But practice makes perfect; you'll soon learn what timing works for you.
For more steaming tips, keep reading.
Investing in a Steamer
If you're a frequent consumer of steamed vegetables, you might want to invest in a stockpot steamer — otherwise, you can pick up an inexpensive Asian bamboo steamer. It's also possible to work magic on vegetables without a steamer, too: place vegetables into a large, deep pot on medium-high that's filled with a tablespoon or two of boiling water, and cook until vegetables have reached desired tenderness. Alternatively you can place a colander or a sieve over a pot of boiling water as a makeshift steamer basket.
Start Playing Around
To get creative and add some interesting flavor to your steamed vegetables, play around with adding liquids, like wine or lemon juice, to the boiling water, or toss in some fresh herbs like thyme. Serve your brightly colored steamed vegetables with a drizzle of extra-virgin olive oil and vinegar for acidity, topped off with a sprinkle of salt and cracked black pepper.
What works for you when you steam vegetables at home?