How to Stir-Fry
Know Your Techniques: Stir-Frying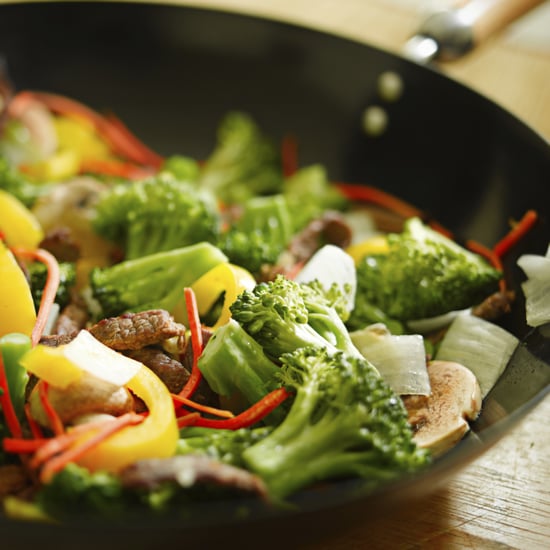 Stir-frying may seem like a no-brainer — mix oil, meat, and vegetables, then stir — but by using the proper technique, you'll gain better, more flavorful results. Hoping to step up your kitchen routine? Gather your favorite stir-fry recipes and follow these six simple steps for an extra tasty meal:
Prep the ingredients. Before you begin, you should wash, cut, and prepare the foods you plan to use. Try to make the pieces as close to the same size as possible so that they take the same amount of time to cook.
Heat the pan. The amount of heat may vary according to different recipes, but you should generally be cooking between medium to high heat. If things seem to be cooking too quickly, remove the pan and lower the heat.
Add oil, then herbs. Once your pan or wok is hot, add some cooking oil (we recommend peanut or canola) and swirl it around to coat the bottom of the pan.
Start with protein. Meat will need to cook for the longest amount of time, so add meat before anything else. To make sure it cooks through, let the meat sit and brown rather than constantly stirring or flipping it.
Toss in vegetables. If you hope to separate the flavors, you may choose to remove the meat before cooking any vegetables. Otherwise, you can just push the meat to the side as you heat the vegetables. Start with the foods that need more time to cook (carrots, broccoli), then add any quickly cooked veggies (water chestnuts, leafy greens) later.
Pour in sauce contents. Slowly add any broth, sauce, or vinegar that's needed for your sauce recipe. Stir in the ingredients and let the mix simmer until it thickens.
If you're stir-frying a lot, it's probably worth investing in a good wok. Do you have any special stir-frying tips? Share them in the comments below!