Having fresh herbs on hand is essential if you're an avid home cook — or bartender! But unless you have a flourishing herb garden, it can be frustrating to purchase bunches of fresh herbs every week, only to watch them wilt and dry out in a couple days. Luckily, there are a few easy tweaks you can make to your herb storage to keep them fresher longer, allowing you to add more flair to your dishes and drinks!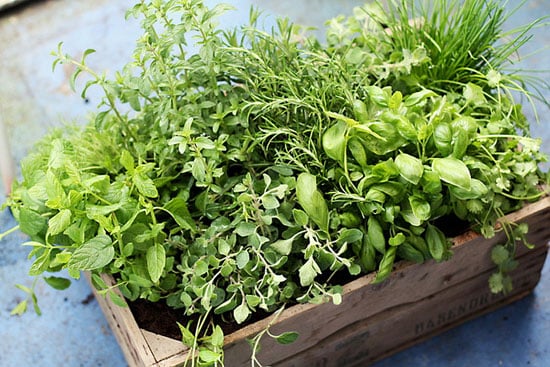 Parsley and cilantro: These delicate herbs are a lot like fresh flowers, so treat them the same way. Trim their stems as soon as you get them home, and stick them in a small glass full of water (bud vases or empty milk or cream bottles work well). Spritz them with water, cover them loosely with a plastic ziplock bag, and put them in the fridge. Every couple days, change out the water and give the stems another small trim to keep them fresh.
Mint and basil: Follow the same steps as above, minus the plastic bag-fridge step. Mint and basil do better at room temperature; mint, in fact, is so weed-like, if you put it in front of a sunny window, it may even start to send roots down into the water and sprout new leaves.
Rosemary, thyme, and oregano: These hardier herbs will brown and mold if kept in water. Wrap them loosely in damp paper towels and then in plastic wrap, and keep them in the crisper or in your fridge door — the warmest spot in the fridge is ideal. Swap out the paper towels for fresh ones every couple days.
Any tips to add for storing fresh herbs?
Source: Flickr User suzettesuzette