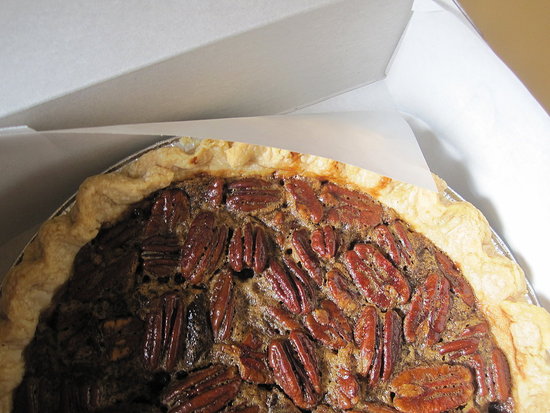 The wonderful folks at SusieCakes recently sent the Sugar offices an assortment of scrumptious holiday pies. While some staff members marveled over how delicious the pies looked, I paid attention to how the pies were packed. If you're transporting a homemade pie this holiday season, here's what you should do:


Start by baking the pie in a disposable aluminum pie pan. This way you won't have to remember to get the pan at the end of the party.
Pick up a pie box from a local bakery or the baking department of your regular grocery store.
Place the box on a large sheet of parchment paper. With a pencil, trace the shape of the box onto the parchment paper. Cut down to size leaving a two-inch border on one edge.
Read more to learn the rest of the technique.


Cut three long rectangular sheets of parchment paper roughly the size of the sides of the box. These will protect the sides and edges of the pie.
Fold to fit inside the box.
Gently place the pie inside the parchment-paper-lined box.
Cover the pie with a final square of parchment paper. Close the lid on the box.
If traveling by car, place the pie box on the floor in the backseat and be sure that nothing will fall on top of it.
Do you have a pie-transportation tip? Please share with us below!