How to Use Guava Paste
Know Your Ingredients: Guava Paste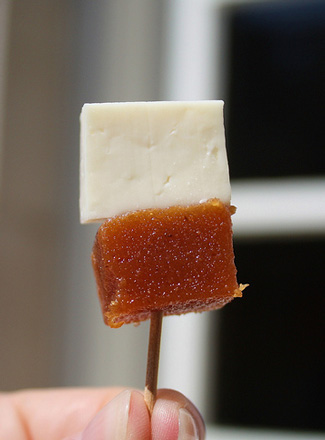 For a little taste of the tropics when you can't make it to the tropics, be sure to expand your culinary repertoire to include guava paste.
Guava paste (also known as goiabada, pasta de guayaba, and guayabate) isn't easy to spot in the many parts of the States unless you look in the Latin section of your supermarket. In contrast, it's a staple everywhere in Latin America, from Puerto Rico to Brazil and Mexico.
The substance is guava pulp, sugar, water, and pectin cooked down slowly into a concentrated form. It has firm consistency similar to that of membrillo and has a wide arrange of uses, from appetizers to desserts.
In Brazil, goiabada is spread on toast, or cut into squares and paired with cubes of local Minas cheese as a snack. In Portugal, it's used as a filling for bolo de rosas, or rose cake, and in Spanish-speaking Caribbean islands like Cuba, to fill guava and cheese empanadas. Personally, I'd love to try it as a dessert sauce, on to add sweetness to pork tenderloin with salsa. So how do you use guava paste?
Source: Flickr User Mr. T in DC