How to Use Quince
In Season: Quince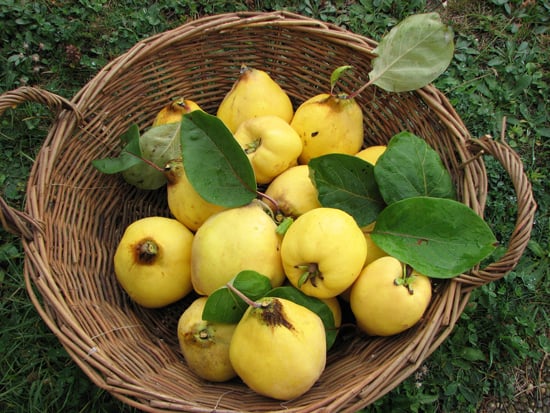 Quince is one of those fruits that still manages to mystify us. Despite the fruit's rich history, up until recently, it was nearly forgotten! But lucky for us, lovers of the fruit have called for the revival. They've been coined the "quintessential slow food"; when eaten raw, the flavor of quince is rather displeasing, but once you cook one of these beauties up, a sweet aromatic scent fills the air. Keep reading for some ideas on how to make the most of quince this season.
When choosing a quince, look for a large, fragrant fruit with a smooth skin. Like most fruit, be sure to avoid quinces that have brown spots, as they mark areas of decay. A smooth quince will be far easier to peel than a smaller, knobby one, but otherwise the flavor and texture are the same. Keep reading to learn how to shop for and cook with quince.
The texture and high pectin content of quince lends itself well to jellies, pastes, and preserves. Chances are if you've tasted quince in the US, you've had it in one of these forms. But quince is a fruit with a global reach, both savory and sweet. In the UK, quince is typically employed in desserts, but in the Middle East, where the fruit originated, it's a popular ingredient in savory stews. Quinces have a super short but sweet season, lasting from October to December. Here are some ideas to make the most of it:
Couple our quince paste recipe, which simplifies the sometimes laborious process, with a block of manchego for an elegant charcuterie board.
Serve it up sweet in a quince tarte tatin.
Bring a Middle Eastern flair to your table with this recipe for lamb and quince tagine.
Use quince for decorative purposes to create a festive holiday centerpiece!
Source: Flickr User jespahjoy