How to Use Up the Last of Your Condiment Bottles
Simple Tip: Transform Condiment Dregs Into Salad Dressing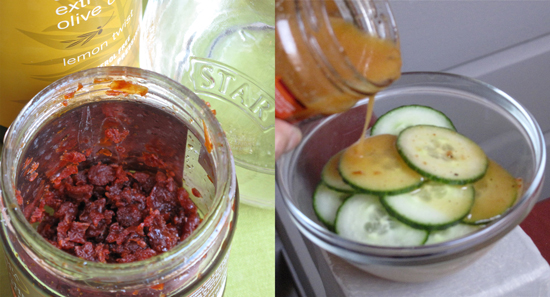 Spring cleaning may have passed, but that doesn't mean there aren't ways to constantly pare down and simplify the items in your refrigerator. I'm guilty of keeping more than a few condiments, and one of my favorite ways to make use of containers that are almost gone is to make salad dressing.
Start with a nearly empty jar of any component that will work in salad dressing, such as anchovies in oil, mustard, soy sauce, olive tapenade, or chopped sun-dried tomatoes, pictured here. (Of course, don't forget to check the date on it.)
Add in the necessary components for vinaigrette (one part acid, three parts oil of any kind), along with seasonings such as salt and pepper, and anything else you've got a hankering to add. Close the top, give it a good shake — and what do you know? You've got homemade salad dressing (in this case, flecked with bits of tomatoey goodness) in its own container!
Have you ever tried this? If not, how do you use up those last jarred bits in your fridge?