How to Wash Stainless Steel Drinkware
How to Care For Stainless Steel Water Bottles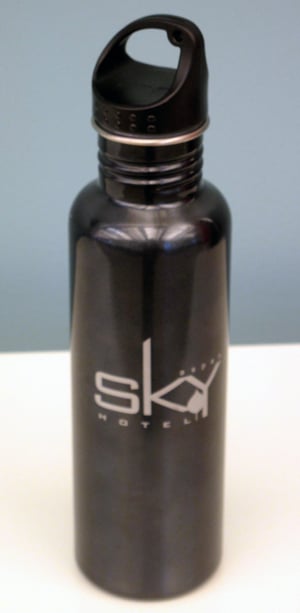 Like double-walled reusable cups, metal drinkware — in particular, the portable stainless steel water bottle — is ubiquitous these days. While they're an eco-friendly way to stay hydrated on the go, it's important to remember that they have to be properly cared for in order to maintain longevity. Want to be sure you're preserving your bottle so it lasts as long as possible? Follow these tips.
Be gentle. Wash your drinkware by hand, as the dishwasher can be damaging to bottles, and the narrow nature of metal bottles means dishwasher detergent may not hit all interior surfaces. (Exception: if you have a plastic lid, this can go into the machine.) Don't use bleach- or chlorine-based cleansers.
Clean your drinkware correctly. Fill your bottle with warm water, then drop in a specialized bottle cleansing tablet. Alternatively, mix warm water with a drop of dishwashing soap, put the top on, and give it a good shake. Rinse thoroughly with warm to hot water. Need to give the lip of the bottle a good scrub? Enlist the help of a soft toothbrush.
Remember that metal is a conductor of heat! Avoid pouring very hot liquids into your bottle, as it'll increase the temperature of the exterior wall, making your drinkware hard to handle. Be sure to allow steaming hot liquids to cool to a drinkable temperature before transferring them into the container.
How often do you wash your stainless steel drinkware?