 Usually I order eggs Benedict at brunch, but lately I've been hungry for huevos rancheros. Huevos rancheros — which translates to rancher's eggs — are tortillas topped with fried eggs and salsa making for a spicy, scrumptious breakfast. The eggs are so filling they also make a wonderful dinner. Having a huevos ranchero recipe in your arsenal is a must if you love Mexican food, so I've found two recipes for you to experiment with. To give one or both of the recipes a try — the first is for beginning cooks and the second is for advanced cooks —
.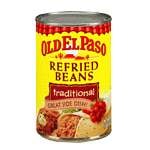 Ingredients
1 tablespoon vegetable oil
2 (6 inch) corn tortillas
1/2 cup refried beans with green chilies
1/2 teaspoon butter
2 eggs
1/2 cup shredded Cheddar cheese
4 slices bacon, cooked and crumbled
1/4 cup salsa (optional)
Directions
Heat oil in a small skillet over medium-high heat. Fry tortillas one at a time until firm, but not crisp. Remove to paper towels to drain grease.
Meanwhile, combine the refried beans and butter in a microwave-safe dish. Cover, and cook in the microwave until heated through.
When tortillas are done, fry eggs over easy in the skillet. Add more oil if the tortillas have absorbed it all.
Place tortillas onto plates, and spread a layer of beans on them. Top with a fried egg, crumbled bacon, cheese, and if desired, salsa.
Serves 2.
Information
Category

Eggs, Breakfast/Brunch

Cuisine

Mexican
Ingredients
2 mild to medium-hot dried chilies (such as New Mexico or Anaheim), cut in half lengthwise, seeds removed
1 small yellow onion, cut lengthwise into 6 wedges with a bit of root end attached
2 tablespoons canola oil
3 cloves garlic, skin on
1 jalapeno chile
2 canned chipotle peppers in adobo sauce
5 whole canned tomatoes, without juice
1/2 teaspoon dried oregano
1/2 teaspoon ground cumin
1 teaspoon coarse salt
1/4 teaspoon freshly ground black pepper
1 teaspoon honey
1 tablespoon freshly squeezed lime juice
8 large eggs
8 corn tortillas (6 inches each), warmed
Cotija, Chihuahua, or Monterey Jack cheese, shredded, for serving
Cilantro, coarsely chopped, for serving
Sour cream, for serving
Directions
Preheat oven to 450 degrees.
Place a large cast-iron skillet over high heat. Add dried chiles to dry skillet and toast on all sides, pressing down on them with a spatula, about 1 minute per side. Remove from heat and place in a large bowl; pour 1 1/2 cups boiling water over chiles, and place a small heatproof plate on top to keep them submerged. Let soak for 20 minutes.
Add a teaspoon of oil to the skillet and swirl to just coat the bottom. Add onion, garlic, and jalapeno. Cook until charred on all sides, about 8 minutes, removing garlic if skins begin to burn.
Remove skins from garlic and place in the jar of a blender. Cut jalapeno in half lengthwise, removing ribs and seeds; add to blender along with onion, chipotle peppers, tomatoes, oregano, cumin, salt, pepper, honey, chiles, and their soaking liquid. Blend until smooth.
In the same skillet over high heat, heat remaining 5 teaspoons canola oil until almost smoking. Add sauce to the pan, being careful as it will splatter. Bring to a boil, reduce heat and simmer about 2 minutes. Stir in lime juice, and remove the skillet from the heat.
Crack eggs into the skillet and transfer to oven. Cook until egg whites are cooked through and yolks are still runny, about 5 minutes.
Place 2 tortillas each on 4 individual plates. Top each with 2 eggs and sauce. Garnish as desired with cheese, cilantro, and sour cream.
Serves 4.
Information
Category

Eggs, Breakfast/Brunch

Cuisine

Mexican