Hugh Acheson's Southern Food
Hugh Acheson's Advice on Cooking New Southern Fare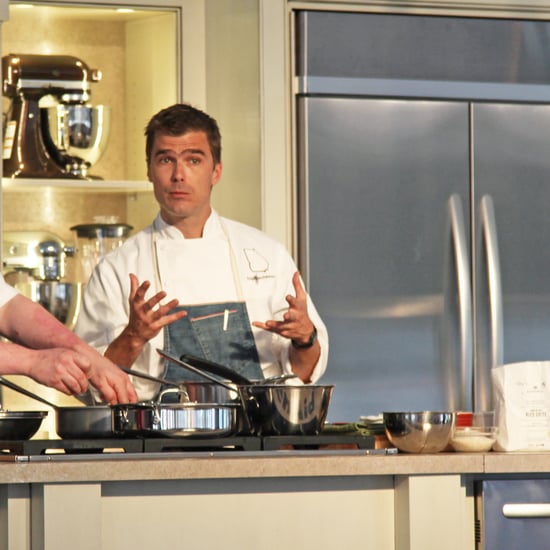 Despite gloomy weather and a tired, hungover crowd, Top Chef veteran Hugh Acheson lit up the stage at his cooking demo on the last day of the Food & Wine Classic in Aspen. While much can be gleaned from the chef, it was hard not to get completely wrapped up in his fervor for Southern fare, a cuisine that he, despite hailing from Canada, has embraced fully as a chef and co-owner of three Georgia-based restaurants. Keep reading for Acheson's take on new Southern fare.
Embrace lesser-known Southern grains: While many people think of Southern grains as cornmeal and grit derivatives, they're only part of the picture, Acheson explained. He suggests embracing the bounty of heritage rices grown in the South, such as Carolina Gold rice grits ($6 for 12 ounces). Rice grits (essentially broken pieces of rice) exude generous amounts of starch when cooked and can be treated much like arborio or carnaroli rice in risottos.
Make room for evolving tradition: Acheson emphasized the importance of making room for new traditions, as Southern cuisine — or any cuisine, really — isn't static. While his dish of rice grits was topped off with Southern ingredients like pork belly and peanuts "because it's the South," he included less-traditional garnishes as well, like kimchi and sunomono-style cucumber pickles. "Kimchi reflects new populations coming to the South," he explained.
Use heritage ingredients when possible: Acheson stressed that sourcing heritage ingredients not only means embracing ingredients that speak to the region's history but also supports small farmers, a point he takes seriously as a self-described "chef who cares within his community." In addition to Carolina Gold rice, the chef encouraged the crowd to seek out high-quality benne (sesame) seeds and Georgia-grown olive oil (from $32). He explained that olives (and olive oil) were once a common crop in the South and are undergoing a small resurgence.
Hold back on the butter and cream: Acheson recalled the best dish he'd eaten as of late: a dish of "just rice, bay laurel, aged rice, and a bit of butter" from McCrady's. When working with high-quality products, he explained, it's not necessary to use as much butter or cream; these rich ingredients will overpower the grain's delicate, nuanced flavor.