Hummus Sun-Dried Tomato Bites Recipe
A Luxurious Appetizer That Only Takes Minutes to Assemble
The following post was written by Betsy Haley, a member of POPSUGAR Select Food, whose delicious recipes can be found on BetsyLife.
Being a food blogger, the expectation is that I'll always have super fancy food at my parties. To me, great food doesn't have to be fancy, and when I'm making snacks for a party, I'm always thinking simple. The more food you can make ahead of time, the more time you get to spend with your guests.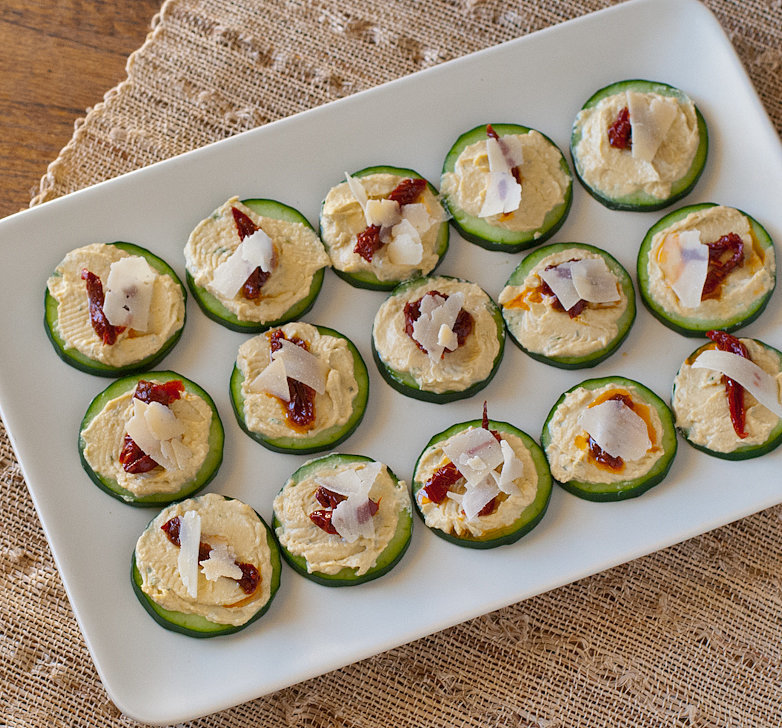 These healthy hummus sun-dried tomato bites were inspired by a sandwich I used to get at a local bagel shop. They fall into the "make-ahead" category (simple!), and may just be the perfect appetizer. They are easy to eat with one hand, and taste delicious at any temperature.
I love these bites so much, sometimes I make a plate as my lunch. I'm kind of obsessed with them. They're tasty, light, healthy, and are pretty much the perfect snack. 
Hummus and Sun-Dried Tomato Bites
Ingredients
1 cucumber, sliced
1 container garlic-chive hummus
1 jar of sun-dried tomatoes
1 chunk parmesan cheese, shaved into pieces
Directions
Spread cucumber slices with hummus. Top with sun-dried tomatoes and slices of shaved parmesan. Enjoy!