The Hunger Games Lamb Stew With Dried Plums
Get Ready For the Hunger Games Release With Katniss's Favorite Lamb Stew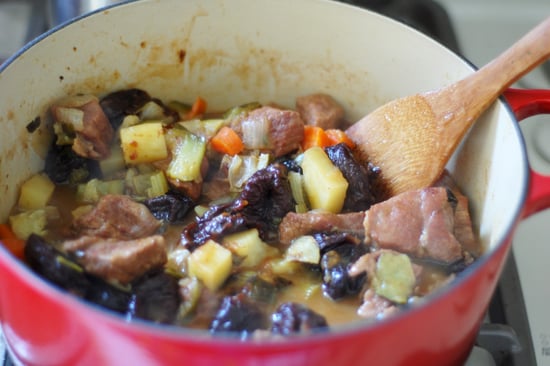 Are you as excited as we are for the release of The Hunger Games in theaters this Friday? As if we needed to be any more pumped up, last week we received The Unofficial Hunger Games Cookbook. The trilogy does a great job of making us crave things like bread, goat cheese, and especially Katniss's favorite lamb stew. Naturally, the lamb stew with dried plums was the first thing I attempted out of the cookbook.
Although dried fruit in meaty stews is something I'm familiar with, I'm not a huge fan, and the recipe out of this book actually scared me a little bit. To be completely honest, I wasn't thrilled with the result. There are a few changes I would make if I were to prepare this stew again: When the recipe says to deglaze the pan with water, I would use red wine instead to develop the flavors of the stew more. I would also reduce the amount of dried plums used by half. The flavor was overpowering, in my opinion; I would have preferred it to be a little more toned down. I also ended up adding an extra two teaspoons of salt to the recipe because it was far too sweet for my taste buds. I didn't find the ginger ale addition necessary, so next time I would leave this out.
If you're a huge fan of Katniss (or if you just love lamb stew with dried fruit), find the original recipe when you keep reading.
Ingredients
5 pounds lamb fillet, shoulder or leg, cut into 2-inch pieces
2 teaspoons salt
1/2 teaspoon ground black pepper
1/2 cup all-purpose flour
2 tablespoons olive oil
3 cloves garlic, minced
1 large onion, chopped
1/2 cup water
4 cups beef stock
2 teaspoons white sugar
3 teaspoons brown sugar
3 cups diced carrots
1 cup diced zucchini
1-1/2 cups diced celery
2 large onions, diced
3 potatoes, cubed
5 cups dried plums
2 teaspoons dried thyme
3 teaspoons chopped fresh rosemary
2 teaspoons chopped fresh basil
1 teaspoon chopped fresh parsley
2 bay leaves
1 cup ginger ale
Directions
Place lamb, salt, pepper, and flour in a large mixing bowl. Toss to coat meat evenly.
Heat olive oil in a large pan and brown the meat, working in batches if you have to.
Remove lamb to a side plate. Pour off fat, leaving 1/4 cup in the pan. Add the garlic and onion and sauté until the onion becomes golden. Deglaze frying pan with the 1/2 cup water, taking care to scrape the bottom of the pan to stir up all of the tasty bits of meat and onion. Cook to reduce liquid slightly, then remove from heat.
Place the lamb and garlic-onion mixture in a large stockpot. Add beef stock and sugar, stirring until sugars are dissolved. Bring mixture to a boil, cover, and simmer for 1-1/2 hours.
Add the vegetables, dried plums, herbs, and ginger ale to the pot. Simmer for 30-45 minutes, or until meat and vegetables pierce easily with a fork.
Serves 8 to 10.
Information
Category

Main Dishes

Cuisine

North American