Ina Garten's Grilled Clams Recipe
Don't Put Your Grill Away Until You've Made These Clams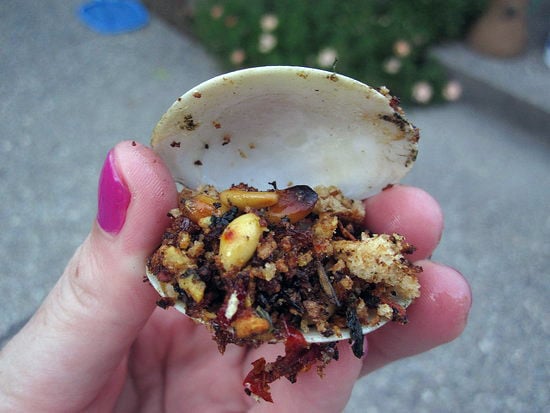 Quick, hurry now: before grilling season is over, you must make these scrumptious grilled clams! I've enjoyed them several times in the past few months, but kept forgetting to snap a photo. Luckily, I finally remembered, because with these clams, you're in for a real treat. Even a self-proclaimed clam-hater (my mother) expressed her genuine love for these breadcrumb-filled, finger-licking good, garlicky clams. If you want to serve them to a crowd, I recommend combining the breadcrumb stuffing ingredients ahead of time, then after you've put the clams on the grill, toss the opened ones with the mixture and serve piping hot. What are you waiting for?! Get the recipe now.
Grilled Clams With Basil Breadcrumbs
From Ina Garten
Ingredients
1 1/2 cups coarse bread crumbs, toasted
2 cloves garlic, minced
3 tablespoons good olive oil
2 tablespoons fresh lemon juice
6 sun-dried tomato halves in oil, drained and coarsely chopped
1/2 cup chopped fresh basil leaves
1/4 cup toasted pine nuts
3/4 teaspoon kosher salt
1/4 teaspoon freshly ground black pepper
24 littleneck clams, scrubbed clean
2 1/2 tablespoons melted butter
Directions
Heat a gas grill or prepare a charcoal grill with hot coals.
Combine the bread crumbs, garlic, olive oil, lemon juice, sun-dried tomatoes, basil, pine nuts, salt and pepper in a large serving bowl and set aside.
When the grill is hot, place the clams in 1 layer on the hot grate and allow the heat to open the clams. They'll open gradually for about 5 minutes, then pop-open wide when they're done.
Using tongs, remove the clams from the grill and place them in the bowl with the bread crumb mixture and toss together. Drizzle with the melted butter, and serve hot.
Serves 6.
Information
Category

Seafood, Appetizers

Cuisine

North American