Ina Garten's Potato Basil Puree Recipe
This Thanksgiving, Make Way For Potato Basil Puree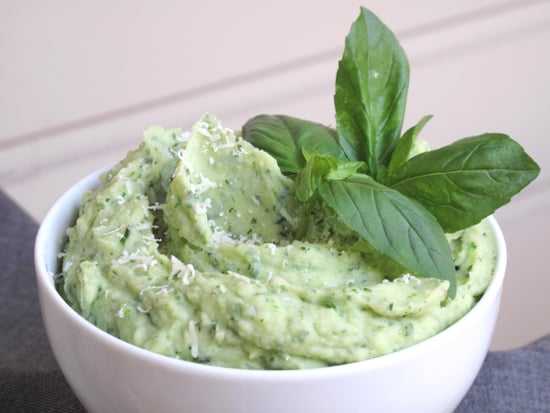 I herald the potato in every form, but when it comes to Thanksgiving dinner, mashed potatoes are a must. But as someone who's enjoyed basic mashed potatoes for the past several years, I'm ready to try something new. Enter a puree of potatoes, basil, and parmesan, courtesy of Barefoot Contessa: How Easy Is That?, Ina Garten's new book.
If you're a pestophile, you won't be able to get enough of its intoxicating anise-like flavor and its impossibly airy texture, which is achieved not through one of those expensive potato ricers or food mills but rather a good ol' mixer — something most home cooks actually have. For an exceptionally flavorful twist on Thanksgiving's most nostalgic side dish, read on.
Ingredients
2 cups fresh basil leaves, lightly packed
2 pounds large Yukon Gold or white boiling potatoes
1 cup half-and-half
3/4 cup freshly grated parmesan cheese, plus extra for serving
2 teaspoons kosher salt
1 teaspoon freshly ground black pepper
Directions
Bring a large pot of salted water to a rolling boil and fill a bowl with ice water. Add the basil leaves to the boiling water and cook for exactly 15 seconds. Remove the basil with a slotted spoon and immediately plunge the leaves into the ice water to set the bright green color. Drain and set aside.
Peel the potatoes and cut them in quarters. Add the potatoes to the same pot of boiling water and return to a boil. Cook the potatoes for 20 to 25 minutes, until very tender. Drain well, return to the saucepan, and steam over low heat until any remaining water evaporates.
In a small saucepan over medium heat, heat the half-and-half and parmesan cheese until the cream simmers. Place the basil in a food processor fitted with the steel blade and puree. Add the hot cream mixture and process until smooth.
With a handheld mixer with the beater attachment, beat the hot potatoes in the pot until they are broken up. Slowly add the hot basil cream, the salt, and pepper and beat until smooth. If the potatoes need to be reheated, cover and cook gently over low heat for a few minutes. Pour into a serving bowl, sprinkle with extra parmesan cheese, season to taste, and serve hot.
Serves 4 to 5.
Information
Category

Side Dishes, Potato

Cuisine

North American