Indian Bitter Melon Taste and How To Make
Adventures in Ingredients: Indian Bitter Melon
To me, Berkeley Bowl is a sacred place worthy of a weekly pilgrimage. Perhaps the ultimate food-lover's grocery store, this massive Berkeley, CA, food emporium carries a huge selection of goods from around the world, and at great prices. I consider it a must stop for friends visiting the Bay Area, so why not share my adventures?
The most remarkable part of the store is probably the produce, which is clearly labeled to identify where each item comes from. The international and bulk sections offer never-ending inspiration, the meats and seafoods offer countless options and price points, and I always find myself mesmerized by fruits and vegetables from around the world that I've never seen before.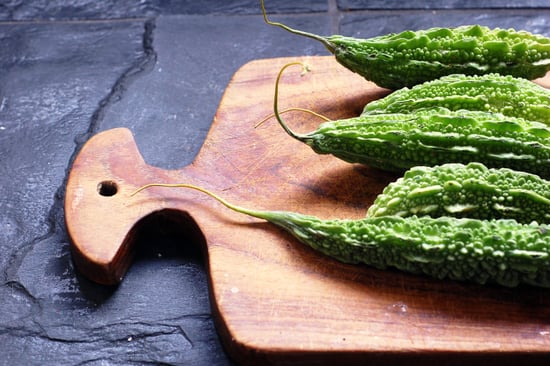 Case in point: Indian bitter melon. I grabbed five or six of these a week ago in an effort to learn about new exotic foods. Knowing nothing at all, I selected these purely based on the fact that they seemed sort of reptilian and would be fun to photograph. As the days went on (and as the bitter melon sat in the crisper drawer of my refrigerator), I became more hesitant, not sure what I was thinking.
Finally, I braved up, opened my computer, and did a little research. As it turns out, Indian bitter melon, or karela, is a commonly cooked vegetable in Indian cuisine. It's described all over the Internet as an "acquired taste," and apparently soaking it in salt water helps to remove some of the bitterness. I found recipes for stuffing and sautéing with various spices. The health benefits of this strange vegetable are plentiful, particularly in managing diabetes, and typically, I can convince myself to like anything if it's good for me.
To find out what I did with these and what I thought of them, keep reading.
After slicing the karela and removing the pith (I found hard seeds in mine that I wasn't expecting), I settled on a simple recipe beginning with cooking sliced onions at a high heat. Then I added the bitter melon, spices like turmeric, cumin, and chili powder, and finished it off with a squeeze of lemon. Everything smelled delicious as it was cooking, so I was feeling surprisingly hopeful.
I served up the bitter melon with a lemon wedge and fluffy pita bread. My verdict? I'm the girl who eats grapefruit like an orange. I love dark chocolate, dark beer, and dark coffee. Bitter (usually) equals better, but in this case, I couldn't handle it. Perhaps I didn't soak the sliced karela long enough in the salt water, or maybe this is what the websites meant by "acquired taste."
Either way, I don't think I'll be bringing home Indian bitter melon again anytime soon, although I am happy to have tried it. I can't wait to see what's next on this adventure!
Have you ever eaten Indian bitter melon? Do you have any tips for cooking this exotic vegetable?